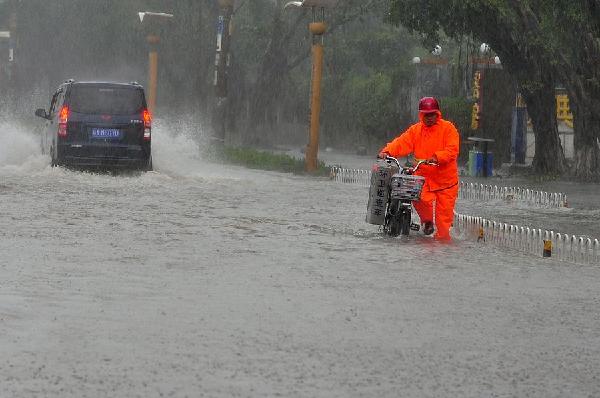 A sanitary worker wades through water on the street in Haikou, Hainan province after typhoon Kalmaegi landed in Wenchang city of the island province at 9:40 am on Tuesday. [Photo/Xinhua]
An abandoned newborn baby found naked on a filthy riverbank during Typhoon Kalmaegi's lashing rains and winds in Dongguan has survived, Southern Metropolis Daily reported on Wednesday.
The baby, found naked and bruised with sand in his mouth, was found by a woman at about 6 am on Tuesday and was sent to a hospital. The infant survived after emergency treatment and is now in a stable condition.
"The little buddy is very strong," a spokesman for the local police station said. "Because he was born the night before typhoon Kalmaegi hit, [we] named him
Haiou
["seagull" in Chinese]."
 The case is being investigated by police.