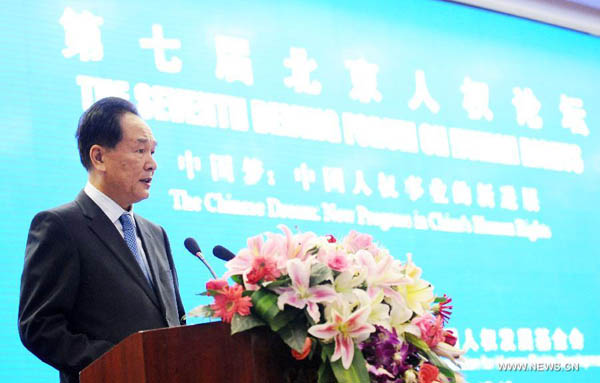 Cai Mingzhao, minister for China's State Council Information Office, addresses the Seventh Beijing Forum on Human Rights in Beijing, capital of China, Sept 17, 2014. [Photo/Xinhua]


BEIJING -- The annual Beijing Forum on Human Rights opened Wednesday as experts meet to discuss progress in China's human rights protection.

The two-day forum attracted more than 100 officials and human rights experts from the United Nations and 30 countries and regions.

Forum topics cover the meaning of the Chinese dream in human rights protection, human rights in the fight against terrorism, and international cooperation in human rights issues, among others.

At the opening ceremony, Cai Mingzhao, director of the Information Office of the State Council or China's cabinet, said China has made remarkable progress in protecting people's economic, social, cultural and political rights.

"However, China is a large developing country, and the problems of balance and disharmony in development are still serious. Therefore, the improvement of human rights protection still requires more effort, and still has a long way to go," Cai said.

Human rights development is never complete and always dynamic, said Ibrahim Salama, director of the Human Rights Treaties Division, Office of the United Nations High Commissioner for Human Rights.

China is increasingly open to the world and engaged in dialogue on human rights, he said.

The forum is co-organized by the China Society for Human Rights Studies, the largest human rights academic group in China, and the China Foundation for Human Rights Development, a major civil group.

The annual event was first held in 2008 and has grown to be a key platform for human rights exchanges among different countries, ethnicities and cultures.