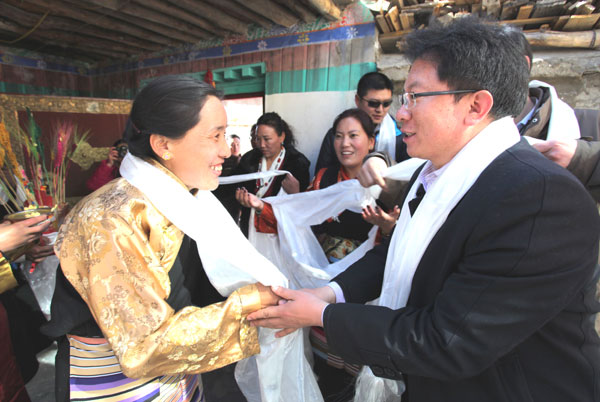 Ma Xinming greets Tibetan people during the Tibetan New Year in 2014. Provided to China Daily
Assistance program bears fruit over two decades
Ma is one of 560 professionals in various fields sent by Beijing's municipal government to be part of the Aid -Tibet program.
The government has invested 2.8 billion yuan ($456 million) over the past two decades, establishing more than 200 projects in a bid to improve people's lives on the Tibetan plateau.
For instance, 500 million yuan has been invested in education, for the construction of 10 schools in Lhasa, including Beijing High School of Lhasa, Tibet Beijing Middle School and Beijing Primary School of Lhasa. About 70 teachers were sent from the capital to Lhasa, greatly increasing the Tibetan capital's educational quality.
Services in other fields, including medical care and infrastructure construction on the plateau, have also been offered.
Help has been offered not only by Beijing but by other provinces in the inland regions.
Jiangsu's municipal government invested 2.8 billion yuan and has sent 408 professionals to work in four counties in Lhasa.
The Shanghai government has invested 2.6 billion yuan.
The Aid-Tibet program, initiated by then-president Jiang Zemin in 1994, ordered China's inland regions to provide assistance to Tibet in medical services, education, tourism management and infrastructure construction.
Over the two decades since, more than 6,000 professionals have been sent to the autonomous region.
According to Tibet Daily, 18 provinces and municipalities, 70 central government ministries and departments and 17 State-owned enterprises carried out 7,615 projects across the Tibet autonomous region at a cost of 26 billion yuan by the end of 2013.
Losang Jamcan, the region's chairman, said the region has maintained a double-digit GDP growth since the aid programs were launched 20 years ago.
Ma Xinming and his wife, Sun Lingling, both alumni of China's prestigious Peking University, have served in the Aid-Tibet program since 2010.
Although Ma, 42, was born and raised in inland China, four years under the sun of the Tibetan Plateau have made him look like a native of the Tibet autonomous region.
"When he conducted surveys in nearby villages of Lhasa, villagers started to talk in the Tibetan language to him," said Sun, joking that the sunshine on the plateau has given her husband another face.
Ma has served as vice-mayor of Lhasa since 2010 and now as head of the Beijing Aid-Tibet program.
He spearheaded reform of public transportation in 2011. Before then, minibuses were the main public transportation vehicles in Lhasa, leading to many safety issues, including frequent overloading and low-quality vehicles that had not been repaired for years.
Ma negotiated with the minibus owners and drivers and provided subsidies and employment plans.
New buses, in use since 2011, constitute the first standard bus system implemented on the plateau.
Last year, Ma organized Princess Wen Cheng, a musical focusing on the Tang Dynasty (AD 618-907) princess of Han descent who married Tibetan King Songtsan Gampo and promoted economic, social and cultural exchanges between the ethnic Han and Tibetan peoples.
The show has been widely acclaimed by audiences and the media and has been described as a "touching and powerful" show and a good explanation of the cultural ties between the Han and Tibetan peoples.
Dorje Tsering, the director of Lhasa's cultural, journalism and publication bureau, has been working with Ma for a year and said Ma greatly respects Tibetan culture.
"Ma released me from work to honor my father because he was aware that it would soon be 49 days since my father had passed away," he said, noting that the ceremony held 49 days after someone's death is very important in Tibetan culture.
Ma's wife, a sociologist, takes advantage of her background in social sciences to conduct studies of Tibet's changes and nurture local academic researchers.
Before her arrival in Tibet, Sun was a researcher at the Chinese Academy of Social Sciences since 2003 after earning her juris doctor degree from Peking University.
Since 2010, she has worked at the Tibetan Academy of Social Sciences as deputy editor-in-chief of the Tibet Studies and vice-director of the Institute of Modern Tibet Studies. She leads a project to study how foreigners view Tibet's changes. Her study has opened a door to Tibet for the English-speaking world and has provided firsthand materials for Tibet researchers.
Tsomo, a colleague from the Tibet academy, speaks highly of her.
"She has a kind heart, always visiting the welfare center for children and raising money and clothing for them," Tsomo said, adding that Sun's academic work has gained wide recognition.
Although Ma and Sun have been quite successful on the plateau, the journey has not been easy.
Located at a small basin surrounded by the Himalaya Mountains, Lhasa has an elevation of about 3,600 meters and lies in the center of the Tibetan Plateau, with the surrounding mountains rising to 5,500 meters. The air contains just 68 percent of the oxygen of the air at sea level.
Because of the scarcity of oxygen, Ma has suffered from gout, and Sun was diagnosed with ulcerative colitis.
However, they are both unwilling to leave the plateau and have decided to stay another four years, the first couple in the Aid-Tibet program to choose a second term.
"The Tibet autonomous region has become the most unforgettable place for us, more than our hometowns," Sun said. "We love Lhasa. We can touch the value of our lives here every day by serving people in need."
Contact the writer at luowangshu@chinadaily.com.cn