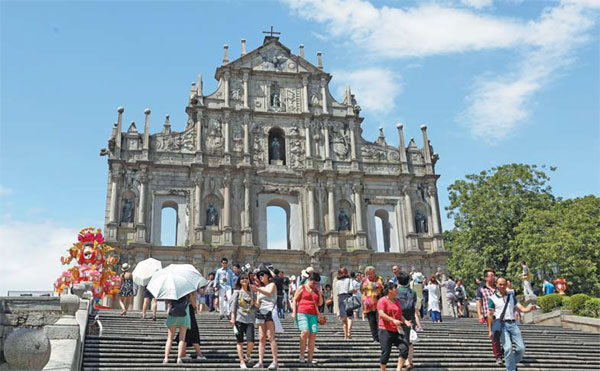 The Ruins of St. Paul, a popular tourism destination in Macao, is always full of visitors from all over the world. Parker Zheng / China Daily
To build itself into a world center of tourism and leisure, Macao needs to increase cooperation with the Chinese mainland as well as with other APEC members, experts said in Macao during the eighth Tourism Ministerial Meeting of the Asia-Pacific Economic Cooperation.
Lao Chi-Ngai, president of the Macao Economic Association, said Macao's tourism industry still has room for further development despite its geographic limitations.
However, Macao cannot "fight alone", Lao said.
"Compared with other APEC member economies, Macao is a very small region, no bigger than Beijing's Capital International Airport," Lao said. "The number of overseas tourists Macao received is almost six times of residents. Tourist numbers keep growing and challenge Macao's public facilities and capacity for receiving visitors.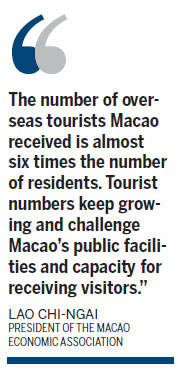 "The task ahead for sustainable development involves regional cooperation. Macao's tourism needs support from Beijing and, especially, from neighboring regions such as Guangdong province and Hong Kong," Lao said. "We can work together to develop multi-destination travel products and remove transportation and visa barriers for tourists."
Pang Su-Seng, acting rector of the City University of Macao, called the APEC tourism meeting a "gift" to Macao on the 15th anniversary of its return to China.
"The meeting itself has boosted the local tourism industry. Besides, it is a good opportunity for Macao to demonstrate its tourism facilities and reception capacity to the many high-level officials who have gathered from different countries and regions."
Macao boasts one of the lowest tax regimes in the Asia-Pacific region. Its economy is driven mainly by tourism and the gaming industry - a broad term that embraces tourism, hotels, catering, retail and casinos. Gaming is the single largest source of direct tax revenue in Macao.
According to statistics from the World Tourism Organization, Macao ranked 19th globally last year in terms of the number of international tourists. The Chinese mainland is the largest source of these tourists.
The first half of 2014 saw 10.2 million tourists visiting Macao from the Chinese mainland, accounting for about 70 percent of total visitors with an increase of 14.7 percent from the same period a year earlier, according to local government statistics.
The local government has been trying to improve Macao's facilities to attract visitors. According to Maria Helena de Senna Fernandes, director of the Macao Tourist Office, Macao will spend a year or two developing a long-term overall tourism plan.
She also said that Macao has made efforts in the smart tourism project. In addition to expanded Wi-Fi coverage in the city, the government is considering the use of new media to attract tourists, with digital devices replacing traditional guidebooks.
"We are now at an initial stage, but we hope to find opportunities to borrow experience from other APEC member economies at the meeting," she said.
Contact the writers at suzhou@chinadaily.com.cn and zhangzhao@chinadaily.com.cn