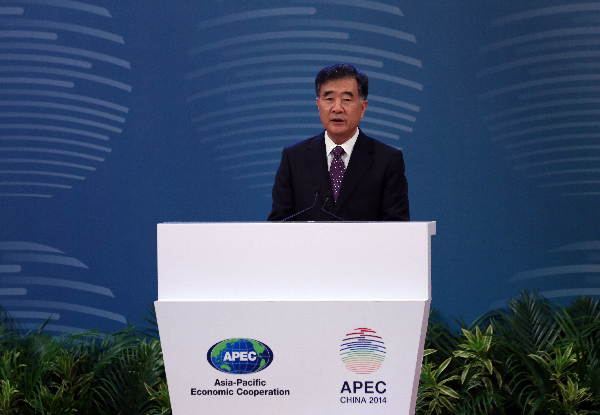 Chinese Vice Premier Wang Yang delivers a keynote speech at the opening ceremony of the 8th APEC Tourism Ministerial Meeting (TMM8) in Macao Special Administrative Region, Sept 13. [Photo by Parker Zheng/China Daily]
China will continue to promote the integration of the APEC tourism market by encouraging its citizens and companies to visit and invest in the construction of tourism infrastructure in the APEC region and support member economies to promote tourism in the Chinese mainland, Vice Premier Wang Yang said in a speech on Sept 13.
"China will contribute more to the integration by improving visa polices and transportations, such as launching more direct flights and encouraging more cities to adopt visa on arrival and visa exemption polices in the future," said Wang during the opening ceremony of the 8th APEC Tourism Ministerial Meeting.
Wang said only by working together with other member economies can APEC achieve the goal of having more than 800 million international visitors within region in 2025.
China has already established close ties with other APEC member economies in tourism. In 2013, eight out of ten popular destinations of Chinese outbound tourism were in APEC region. China's inbound tourists were also mainly from APEC region. Nine out of ten top inbound tourists were from APEC member economies.
Wang said it is very crucial to discuss tourism cooperation when the world is still recovering from financial crisis and looking for new engine of sustainable development.
"As the largest and one of the fastest growing industries in APEC regional economy, tourism can leverage the development of whole regional economy," said Wang.
"Tourism industry can also fuel the regional economy integration by promoting a more open market, and enhancing the financial, cultural, information and personnel exchange, as well as the connectivity between member economies."