Sensor-Internet connection may have widespread applications in future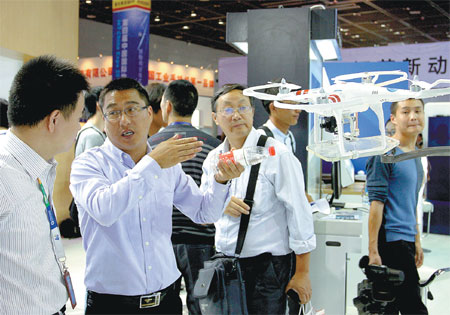 Scientists and engineers at an expo of the Internet of Things recently held in Wuxi.
In the No 3 People's Hospital of Wuxi, all patients wear a plastic bracelet printed with a unique bar code that references critical information.
With a simple scan of a patient's code with a hand-held device, nurses can get access to a wide range of information, from the medicines that have been administered to the patient's account balance.
"The Internet of Things technology relieves the nurses' workload, reduces their mistakes and saves the patients' time," said Li Jianping, vice-director of the hospital.
Technicians worked closely with nurses and doctors for a year to improve the system, said Liu Jun, general manager of Baynexus Inc, the maker of the system.
"Now it can be used in other hospitals, too," Liu said. "In the future, I hope all hospitals can share the patients' information to better serve the people."
That's one example of the use of the Internet of Things - or IOT - in Wuxi, China's IOT industry center. The area was recognized as China's IOT industry base after former premier Wen Jiabao visited Liu's company four years ago.

The annual sales revenue of the company, whose name was changed to Sensing China Holdings after Wen's inspection, rocketed from scratch to 2 billion yuan ($328 million) last year.
Exactly what constitutes IOT is a bit slippery. The term is applied loosely to a variety of technologies. Wikipedia defines it as the interconnection of uniquely identifiable embedded computerlike devices within the existing Internet infrastructure.
Liu, who has been dubbed the father of IOT in China, calls it a sensing system that connects physical objects.
"The old IOT concept - sensors, radio frequency identification, chips, servers, databases - is outdated now," Liu said.
"I think IOT is a model. I am offering solution models for my customers."
His company now has 20,000 employees in dozens of branches around the world. His main target markets include security, transportation, logistics, energy, construction, smart city, intelligent home and mining industries. Liu thinks annual sales revenues will exceed 10 billion yuan in two years.
"IBM and Google are doing the same research we are, but our works are better tailored to the needs of the Chinese market," said Chen Dapeng, a chief engineer with Liu's enterprise. "The big markets in China also gave us considerable power in setting international standards for the industry."
Thanks to the central government's support after Wen's arrival, almost all major cities in China regard IOT as a key emerging industry to support. Liu spent considerable time each day in the first two years receiving important visitors from around China.
More than 100 universities in the country have started IOT departments or research institutes in the past three years.
Some critics say Liu is a speculator in IOT, a concept invented in 1960s with radio frequency identification, or RFID, and that IOT will become an overcapacity industry soon in China.
The industrial park in Wuxi has dozens of IOT enterprises, which vary from big firms, such as Liu's, to small workshops run by teams of several young technicians. All of them focus on the application of IOT, especially in low-end market niches such as anti-theft systems on electric bicycles. None focus on making their own high-level sensors, chips and servers, which are core technologies of the industry.
The scale of the IOT market of China rose from 260 billion yuan in 2011 to about 500 billon yuan last year, according to the China IOT Research Center.
Ruan Peng, general manager of the State-owned Datang Group's telecommunication branch in Wuxi, said the anti-theft system market for electric bicycles is so large and so easy to enter for IOT firms that "under heavy pressure of fulfilling the annual sale revenue target fixed by his superiors", it is natural for Liu to concentrate on the "easy money first".