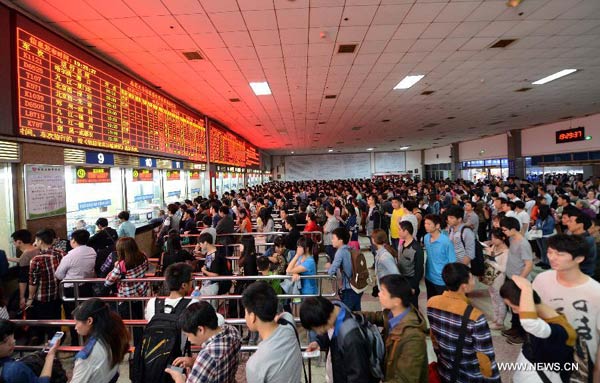 Passengers buy tickets at the Nanchang Railway Station in Nanchang, capital of east China's Jiangxi province, April 30, 2014. [Photo/Xinhua]
A spokesperson from China's rail authority said on Thursday that the administration is not responsible for ticket pricing or other related fees, the China News Service reported.
The announcement came after a lawyer accused the National Railway Administration (NRA) of high ticket refund fees.
Dong Zhengwei, a lawyer in Beijing, argued that the 20 percent refund fee is too high and unreasonable, because the returned ticket will be sold to other passengers and it won't cause any losses to the rail authorities.
Dong demanded NRA to make the refund fee pricing public, but he was told by the NRA that the administration is not in charge of the pricing of tickets, and the China Railway Corporation has full authority in pricing. Thus, in April, Dong took the NRA to court for administrative proceedings.
The court then ruled that the NRA has the authority to approve the refund fee pricing based on the latest rules published by the administration itself. Days ago, the NRA was ordered by court to re-consider Dong's request.
However, the new explanation seems to be no different from the previous one. NRA insisted that their main function is railway safety supervision, and has no relation with fee pricing approval.
China Railway Corporation announced in August 2013, that the refund fee proportion was to rise from 5 percent to 20 percent if passengers return their tickets within 24 hours, ahead of the departure time. During the Spring Festival travel rush, refund fee proportion would be 20 percent no matter when passengers return their tickets.
The price rising has triggered great controversy.