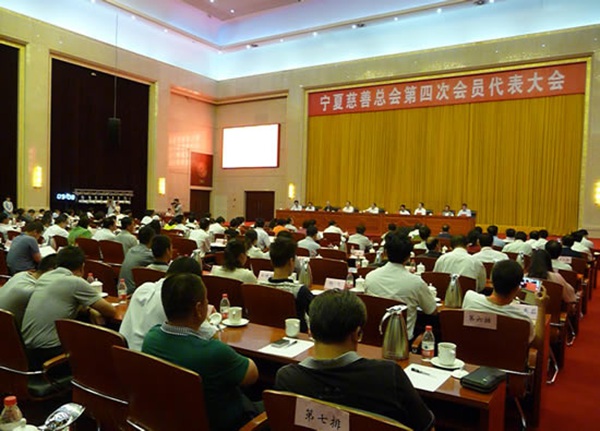 The Ningxia Charity Foundation holds its fourth congress meeting in Yinchuan, capital of Northwest China's Ningxia Hui autonomous region on September 5, 2014. [Photo/nxnews.net]
A new program of the Ningxia Charity Foundation will enable people or enterprises to establish funds under their own names for donations of 5000 yuan or more, Xinhua reports.
Donors can benefit from tax-deductions according to current regulations.
The program categorizes these privately-established funds into three types direct donation funds, pledged donation funds and micro charity donation funds.
Direct donation funds require a one-time direct donation of over 500,000 yuan or recurring direct donations amounting to over 2 million yuan within 3 years.
To establish a pledged donation fund, the donor needs to pledge at least 5 million yuan or donate income-generating fixed assets valued at over 10 million yuan.
Any individual or enterprise making a donation of over 5000 yuan can establish a micro charity donation fund.
Donors must sign a written agreement with the foundation, which stipulates the amount, usage and supervision of donated funds.
The two parties will then form a fund management commission, but donors will retain the right to make the final decision on the programs, amount and forms of providing financial aid.
The Ningxia Charity Foundation will also open an individual account for each of these private funds, and conduct a yearly auditing of the accounts under the supervision of the donor, the foundation and the society.
These funds can be dismissed by the foundation in cases of breached agreements, or at the donor's will.