Twenty-eight cases involving mooncakes and other holiday gifts violated austerity rules in connection with Mid-Autum Festival, according to a CCTV report, as the nation's anti-graft watchdog stepped up efforts to forestall bribes during the holidays and made tip-off mechanisms available to the public.
The Central Commission for Discipline Inspection of the Communist Party of China published on Monday a weekly report for Sept 1 to 7 that listed 177 total cases involving rules violations, including the 28 for holiday gifts.
Two cases were exposed in Beijing, one involving an official sending out food and gift cards to employees at Beijing National Grain Trade Center, and another in which an official gave 27,300 yuan ($4,400) in cash to employees at a cultural industry development promotion center in the city's Huairou district.
The heads of the two government agencies were given disciplinary warnings.
The CPC leadership introduced the eight-point rules at the end of 2012 to curb extravagance among Party members. By the end of June, 61,703 officials had been disciplined for breaches of the rules, according to figures from the CCDI.
It is a long-standing tradition in China to send mooncakes and small gifts to family members and relatives during Mid-Autumn Festival, the 15th day of the eighth lunar month when the moon is full. The round, sweet pastries filled with different savory stuffings - staples of family reunions - have become popular gifts during China's second-biggest festival. 
Mooncakes, however, have also been known to be wrapped with other items of value, sometimes even cash, in gift boxes to serve as holiday benefits for government employees at the expense of the public. 
Yan Jirong, a professor at Peking University's School of Government, said such mooncake gift boxes are a type of illegal "gray income". 
"Lack of supervision and appropriate punishment over the years allowed the behavior to become popular, " he said.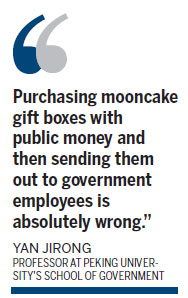 "Purchasing mooncake gift boxes with public money and then sending them out to government employees is absolutely wrong," he said, adding that flawed salary and benefit packages are driving officials' efforts to improve their employees' lot.
Worse, observers say, is that festival food may be wrapped in extraordinarily fancy gift boxes and presented together with other luxuries to officials. 
Wang Qishan, head of the CCDI, said recently that the prime problem lies less in the mooncakes themselves than in various luxury goods, such as jewelry or smartphones - or even cash - that may be included in gift boxes. 
The top discipline inspection body published on Saturday an extensive list of telephone numbers, postal addresses, e-mail accounts and other contacts in 24 provinces, autonomous religions, municipalities and cities, as well as four ministries, prominently on its homepage to invite the public to submit tip-offs about excessive spending by officials.
The CCDI has launched six large-scale anti-graft campaigns during the holidays since the nationwide efforts of cracking down corruption launched in 2012. 
The tip-off column at the CCDI website has provided a direct channel for the public to supervise the spending of government funds, Yan said. 
"Reports on illegal activity will be tracked," he said.
Contact the writer at zhang_yi@chinadaily.com.cn