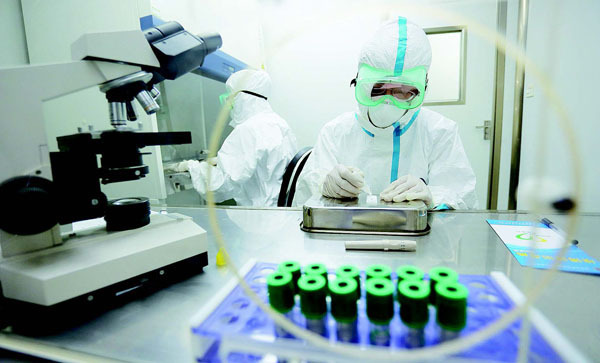 Quarantine workers at Qingdao airport in Shandong province test samples for the Ebola virus on Aug 11, 2014.[Xie Hao/For China Daily]
Chinese health officials have confirmed they're working on establishing a special new laboratory to do research on finding a potential cure for the Ebola virus.
The Chinese Center for Disease Control and Prevention says they expect to complete the lab by next year.
Authorities say the lab will have high-level safety standards which will allow researchers to study Ebola and come up with vaccines for the virus.
At the same time, the CDC is once again downplaying the risks of an Ebola 'outbreak' in China.
But at the same time, Gao Fu, vice-Director of the Chinese CDC, admits Ebola is likely to make its way into China at some point.
"Based on the evaluation by our experts from the China CDC, we may not prevent Ebola from entering China. As long as it lasts in Africa, it is likely to be brought here. However, we are confident that our control and prevention mechanism is able to curb its spread."
The official notes China has accumulated a lot of experience from combating epidemic diseases including, SARS, Bird Flu and Swine Flu, which he contends will be helpful in fighting Ebola.
So far there have been no cases of Ebola in China.
The death toll from the current outbreak in West Africa has surpassed 19-hundred.