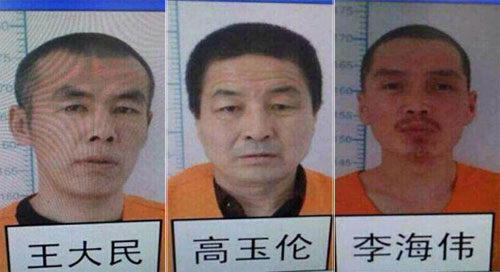 Photo of the three inmates. [people.com.cn] 
HARBIN - More than 1,000 police officers are hunting three inmates who escaped a detention center after killing a guard on Tuesday in northeast China's Heilongjiang Province.
The local police promised to issue cash rewards of 300,000 yuan (about $48,800 dollars) for information leading to the capture of the fugitives, who fled the jail in Yanshou County near the provincial capital of Harbin.
Surveillance video showed Wang Damin, Gao Yulun and Li Haiwei wearing police uniforms as they walked out of the gate of the detention zone one after another at around 4:40 am.
The authorities did not reveal how the three inmates killed the guard.
Gao, 50, was in the jail while his death penalty for homicide was being reviewed. Wang, 35, was awaiting his sentence on the charge of intentional injury. Li, 29, was awaiting his sentence for homicide.
The fugitives, all Yanshou locals, are not carrying guns, according to the provincial public security bureau.
A similar jailbreak was reported in Harbin in 2010. Two convicts in their 20s fled the city's Liming Prison but were both caught within a few weeks.