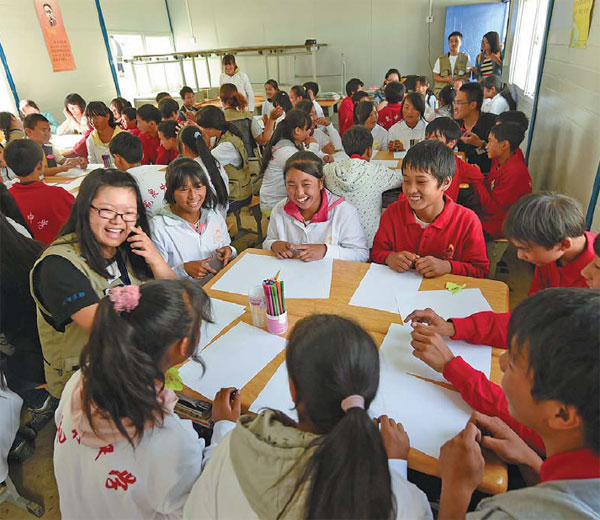 Students at the Longquan Middle School in Ludian county, Yunnan province, which was ravaged by a deadly earthquake last month, participate in a group counseling session as the first class of the new semester on Monday. Lin Yiguang / Xinhua
Students at a middle school that was at the epicenter of last month's killer earthquake in Yunnan province began the new semester on Monday with a group counseling session.
The 45-minute session at Longquan Middle School in Ludian county was led by counselors from the Institute of Psychology from the Chinese Academy of Sciences.
The school lies at the epicenter of the 6.5-magnitude quake that struck Yunnan on Aug 3, killing more than 600 people.
More than 20 students and three teachers from the school died. The building was badly damaged and has been partly rebuilt.
Wu Kankan, a researcher from the institute who heads the Ludian psychological counseling center, said, "The essential aim is to help children face their fears and grief, guide them in releasing and processing negative emotions and build mutual support."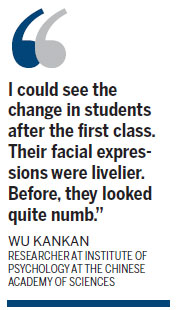 Wu said counselors from the institute set up two grief relief classes for seventh- and eighth-grade students at the school.
"We first introduced some games and then asked students to convey their negative emotions through drawings. Some drew scary faces, while others were not willing to talk about the quake," Wu said, adding that the drawings echoed students' fears and emotions following the disaster.
"We then asked students to tear their drawings up, to release their negative emotions," Wu said, adding that the pupils enjoyed this.
Counselors then asked students to draw fists and hands, symbolizing the power to gain social support.
"We hung all the drawings of hands and fists on the wall," Wu said, adding that this is important for students to feel power and rebuild confidence.
"I could see the change in students after the first class. Their facial expressions were livelier. Before, they looked quite numb," Wu said, adding that psychological counseling is a long-term process, and the institute plans a one-year project in Ludian.
The Yunnan Education Bureau said the school is one of 549 in the quake zone that began classes on Monday.
The Institute of Psychology at the Chinese Academy of Sciences has started to train local teachers, doctors and civil servants how to conduct basic grief counseling.
"Psychological counseling is a time-consuming project. We train local people to help them support themselves, aiming to create a long-term mechanism to deal with post-disaster psychological problems," Wu said.
On Monday, more than 200 million students across China started classes as a new school year began.
Contact the writer at luowangshu@chinadaily.com.cn