Friendship serves the common interests of both sides, Xi tells envoy from Hanoi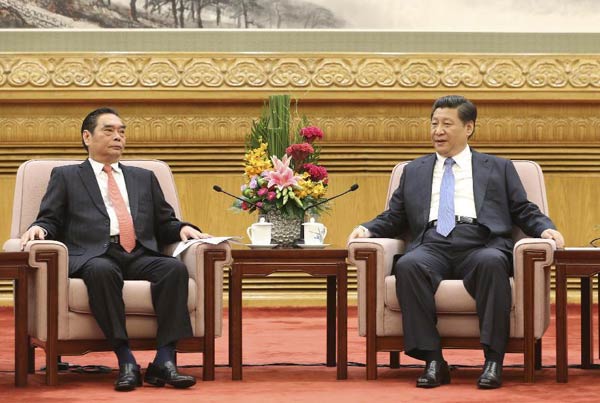 Chinese President Xi Jinping (R) meets with Le Hong Anh, special envoy of General Secretary of the Communist Party of Vietnam (CPV) Central Committee Nguyen Phu Trong and also a Politburo member and standing secretary of the Secretariat of the CPV Central Committee, in Beijing, capital of China, Aug 27, 2014. [Photo/Xinhua]
China and Vietnam sent a clear signal on Wednesday that strained relations will be repaired and maritime tensions brought under control, after a special envoy from Hanoi visited Beijing.
President Xi Jinping and a number of senior officials met with Le Hong Anh, a senior member of the ruling Communist Party of Vietnam.
The envoy arrived in Beijing on Tuesday to address a downturn in relations following anti-China riots in Vietnam in May. The rioting dealt a substantial blow to the Vietnamese economy after operations were disrupted at more than 1,000 factories.
The envoy delivered messages from the General Secretary of the Communist Party of Vietnam, Nguyen Phu Trong, and Vietnamese President Truong Tan Sang.
Xi said he valued these messages.
In Wednesday's talks, the two countries promised to honor rules for maritime negotiations and also renounced actions that may complicate or exaggerate disputes.
Xi said, "Friendship serves the common interests of both sides", adding that the two neighbors should have "timely communication on major issues".
"It is common to see ups and downs between a pair of neighbors, and the key lies in how to face and treat them," Xi told the envoy. The two countries also agreed to look to the long term and resume and strengthen cooperation in fields including defense, economy and trade, law enforcement and security, as well as culture.
Liu Yunshan, a member of the Standing Committee of the Political Bureau of the Communist Party of China, said Anh's mission demonstrates the "proactive political willingness" of the Vietnamese Party and government to improve the relationship.
The Vietnamese envoy stated the unchanged commitment of his country's leaders to the traditional friendship and Hanoi's diplomatic priority concerning the relationship with Beijing.
"Given the existing intricate international situation, it is more significant than at any time to press ahead with cooperation and solve differences," he said.
Xi suggested that the two countries should "rule out various disturbances", calling for goodwill to be nurtured between their two peoples.
Pan Jin'e, a researcher on Vietnamese studies at the Chinese Academy of Social Sciences, said the United States and Japan have been working harder since the turmoil on luring Hanoi to join the ranks of those seeking to contain China.
The two sides reached a consensus that includes stronger direct guidance by leaders of both countries over the relationship.
They also pledged to make full use of the Sino-Vietnamese governmental border negotiation mechanism and seek a lasting solution acceptable to both countries.
They said they are firmly committed to previous consensus reached by their leaders and promised to substantially put into practice a bilateral agreement on basic principles guiding the settlement of maritime issues.
Li Jinming, a professor of maritime law and South China Sea studies at Xiamen University, said, "Peaceful negotiation is the only path."
China's recent efforts to ensure its lawful maritime rights and interests have been greeted by fierce reactions from some countries.
"China will not succeed in reining in territorial provocation impulses if it fails to persevere and stick to its positions," Li said.
Liu Yunshan also suggested that joint development be conducted on a "substantial level".
zhangyunbi@chinadaily.com.cn