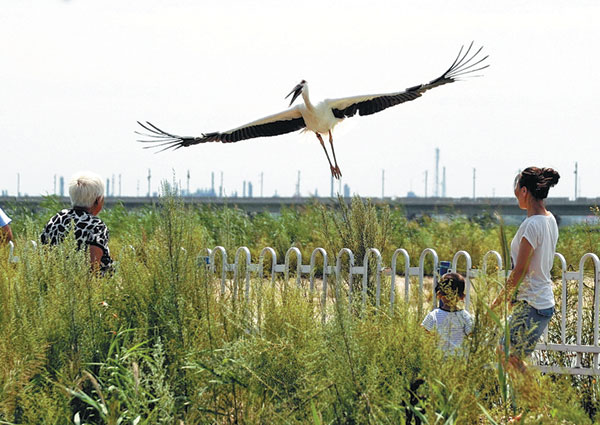 An oriental white stork is freed in Daqing, Heilongjiang province, on Aug 3, after it recovered from an injury. Shao Guoliang / Xinhua
An oriental white stork is just a rare bird in most people's eyes, but for Zhao Zhichun, Katyusha is one of his closest friends.
People often see the stork flying over Khanka Lake to a research station on the shore, where she awaits the appearance of Zhao.
Zhao, 43, a native of Jilin province, is an expert in wetland monitoring at the Chinese Academy of Sciences' Khanka Lake research station in Heilongjiang province.

The oriental white stork is a reserved and shy creature that humans hardly ever get close to, according to Zhao, but Katyusha seems close to her human friend and comes when Zhao whistles, like an airborne dog. When he approaches Katyusha, she becomes very calm and quiet, as if she is enjoying a sweet moment.
Their friendship began in November when Katyusha was rescued by locals living near the Qixing River National Nature Reserve and was taken to the research station. Katyusha's wings had been injured, but Zhao and his colleagues nursed her back to health and have been taking care of her ever since.
Katyusha is now about 2 or 3 years old. An oriental white stork lives for more than 10 years. Its diet consists of fish, frogs and insects. She mainly lives on Khanka Lake, on the border between China and Russia, so the staff named her "Katyusha", a Russian girl's name.
Because of habitat loss and environmental change along their migration route, only about 2,000 oriental white storks are left in the wild, mainly in Russia and China. The bird is a first-class nationally protected animal in China.
Storks usually migrate in November from Russia and northeast China to the middle and lower reaches of the Yangtze River, and they return in the spring.
Katyusha is practicing long-distance flying and storing energy like other birds, preparing for a trip due to start in two months, but maybe she does not want to be parted from her friend on the side of Khanka Lake, and Zhao is also reluctant to see her leave.
"I hope she finds a quiet and clean habitat and lives an elegant and happy life," Zhao said.