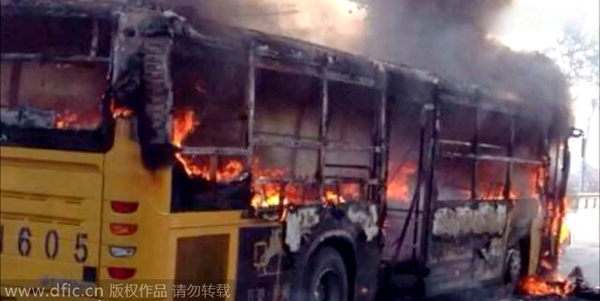 A public bus burns in Kongcou, Shandong province at around 8:30 am, Aug 21, 2014. [Photo/IC]
JINAN -- One person was killed and 19 others were injured after a public bus caught fire during rush hour in east China's Shandong province on Wednesday.
The bus blaze in Longkou City broke out at around 8:30 am and was extinguished half an hour later, according to the Longkou municipal government.
Police said an act of arson was possible. Following a preliminary investigation, they believe the suspect to be a man around 50 years old. Police are searching for the suspect.
A woman in her 40s died on the spot. Four of the injured are in serious condition, and all the injured were sent to hospitals.
Witness Zou Jingdong from the nearby Longhua Village said he saw young people jumping out of the window while the aged rushed out from the door.
"I saw the front part of the bus on fire. After pulling over the bus, the driver immediately opened the two doors to evacuate the passengers," said he.
Bus driver Li Yiliang recalled there were 49 passengers on board and the fire started all of a sudden. As the fire spread fast, he broke a window with an emergency hammer to escape and suffered a minor burn.
China has seen a string of bus arson cases in recent years.
In July, a 25-year-old suspect surnamed Ou in south China's Guangzhou city set a bus on fire in anger after gambling losses, killing two and injuring 32. A 34-year-old man was accused of setting fire to a bus in east China's Hangzhou City, injuring 32 people.
On June 7 last year, a bus in the east China coastal city of Xiamen burst into flames, leaving 47 people dead and 34 others injured. Police later said suspect Chen Shuizong, who also died in the fire, committed arson with gasoline.