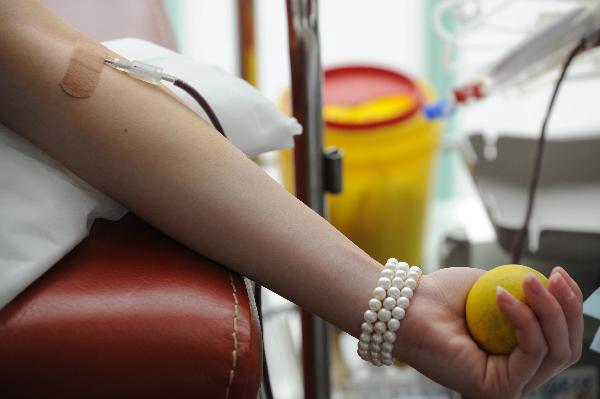 A photo shows a citizen donating blood in Xidan area of Beijing, capital of China, Nov. 30, 2010. [Photo/Xinhua]
The number of victims forced to donate blood in Northwest China's Gansu province has increased to 10.
More details are being revealed as investigations continue into the scandal that saw a group of children under the age of 18 forced to donate blood every month between November 2013 and May 2014.
A group of seven individuals in the city of Wuwei, Gansu were involved in the scandal. They were led by a man named Huang, identified as the deputy chief of a blood center run by Lanzhou Institute of Biological Products, and illegally collected 10,700 yuan ($1,742) through more than 48 forced blood donations.
Seven of the 10 victims were under the age of 18, the Public Security Bureau in Wuwei said on Sunday.
So far they have arrested six of the seven suspects, with one suspect declared exempt from criminal responsibility for being underage.
In China, the legal age for blood donation is from 18 to 55. Blood centers are required to double-check the donor's identity before taking blood.
The Lanzhou Institute of Biological Products is one of China's largest producers of blood products.
Donors visit blood centers to earn between 100 to 200 yuan in the form of a "nutrition fee" for each visit. It's common for young donors to visit the center in groups.
Huang enlisted a student from the local school to help select the victims, often his friends, one source told Xinhua. Another accomplice would collect ID cards with photos that look like the victims.
Huang then used his position as the head of the center to add the false information into their database to complete the verification process, said Dong Dexiang, a police officer from the local Public Security Bureau.
The victims were threatened or beaten if they did not cooperate, according to Dong.
An employee at the blood center said the donors were informed beforehand of the questions asked in the ID verification process and were told to recite answers that would not arouse suspicion, adding to the difficulties in uncovering the false IDs.
Locals say this had been going on for years, with one source telling Xinhua that angry parents, who discovered their children had been forced to donate blood, confronted the company in 2012. The confrontation was not verified by the police.
Lack of Supervision
According to previous reports, students aged from 10 to 16, were forced to donate blood at least once a month for seven months. Each time 600 milliliters of blood were taken. The average amount of blood drawn for voluntary donors is 200 milliliters.
The scam was uncovered seven months later when one boy sought his parents' help after being beaten for refusing to give blood.
Dong said Huang's position at the blood center helped them cover their tracks, as he supervised the center's whole process from collecting ID cards to physical check-ups.
The blood center only verifies first-time donors, during which they take photos and register the volunteer's information. Qualified donors receive a certificate allowing them to avoid future ID checks, according to company regulations.
This was another reason why the group operated as long as they did, said Dong.
Each year, the blood center's employees were given a quota to help find 30 new donors. If successful, they received a 3,600 yuan bonus.
Huang confessed he was under pressure to find more donors toward the end of last year, so he came up with the plan.
Health inspectors examine the blood center three to five times a year, but despite spot checks, donor ID supervision relies solely on records provided by the blood center, Wang Xuejun, an official with the Wuwei health department said.
"Both [the health inspector's] supervision and the company's regulations should be strengthened," he said.