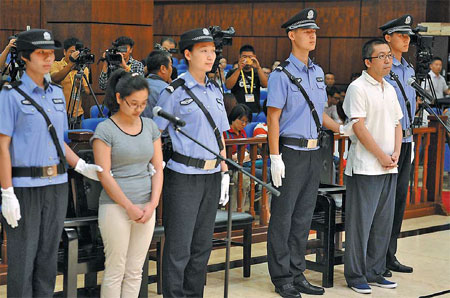 Lu Mei (second from left) and Yang Xiuyu (second from right), who are accused of operating an illegal business, stand trial at the Beijing Chaoyang District People's Court on Thursday. Gong Lei / Xinhua
Pair took payment from companies to remove negative comments
A Chinese micro-blogger pleaded guilty on Thursday to helping others delete critical posts and spread false information on the Internet, saying he did it for profit and to attract followers.
Yang Xiuyu, founder of Erma Co and also known online as "Lier Chaisi", stood trial at Beijing Chaoyang District People's Court, accused of illegal business operations after receiving 531,200 yuan ($86,300) to help clients remove unfavorable online posts and publish rumors from May 2012 to September 2013.
Yang, wearing a white T-shirt and gray pants, admitted his guilt to the charges after prosecutors publicly read the indictment.
The 41-year-old from Jilin province said during the trial that he signed contracts with businesses to help them monitor public opinion and eliminate negative posts about them.
"The companies gave me the information they wanted to delete first, and then I asked my colleague, Lu Mei, to find people to erase the posts," he said.
Lu, 31, the former media department head in Yang's company, also stood trial on Thursday on the same charge as Yang.
The woman from Hunan province, who was accused of seeking 220,200 yuan from Yang for deleting some online posts for the businesses, also pleaded guilty, saying that eliminating posts mostly was called "public relations crisis management".
The court did not issue a ruling at the end of the trail.
In addition to deleting posts for money, Yang was also suspected of creating "news" to spark the public's attention and help raise his clients' public profiles.
For example, he once recruited a man to wear monk clothes and flirt with two women on a boat in Beijing, taking videos of the scene and posting it online, and then asked a painter surnamed An to comment on the case.
"It was the painter who had asked me to help him raise his profile, and I shared this idea with him. He paid me 170,000 yuan after the video and his planned comments appeared online," he added.
The Ministry of Public Security said on its website that Yang also allegedly used Guo Meimei to discredit the Red Cross Society of China.
Guo gained nationwide notoriety several years ago after flaunting her luxurious lifestyle on micro blogs while falsely claiming to be a Red Cross employee, raising suspicions of rampant corruption in the NGO. But Guo was not mentioned in the indictment.
Guo has been investigated for alleged involvement with illegal gambling and the sex trade, and for spreading rumors.
Prosecutors said that Yang's and Lu's actions were a violation of Chinese Criminal Law, and the two defendants should be convicted of operating an illegal business.
Yang's case is the latest in an effort to find and punish those who spread false information on the Internet for self-serving reasons.
In April, the court sentenced Qin Zhihui, better known by his online name, "Qin Huohuo", to three years in jail for defamation and causing trouble.
Qin, 30, who defamed celebrities by spreading rumors on Sina Weibo, China's largest Twitter-like platform, was the first person to be sentenced after China began targeting fake online information and rumormongering in 2013.
Sina Weibo established a center to tackle rumors in May 2012. Since then, it has cleaned up 15,348 micro blogs identified as those that spread rumors, according to the company.
The center has dealt with 3,101 pieces of fake information over the past seven months, a 50-percent decline year-on-year. The center has also reduced response time to fake information from more than 16 hours last year to eight hours, said Cao Zenghui, Sina Weibo deputy manager.
caoyin@chinadaily.com.cn