China has been struck by an extreme weather paradox of severe drought in the north and severe flooding in the south, said the State Flood Control and Drought Relief Headquarters.
Floods and mudslides have killed at least 311 people in China this year, and are expected to continue to threaten major rivers in August, the headquarters said on Tuesday.
"Heavy rainfall may trigger severe flooding and mudslides in many major rivers, like the Yellow River and parts of the Yangtze River this month," headquarters spokesman Su Qingpeng said.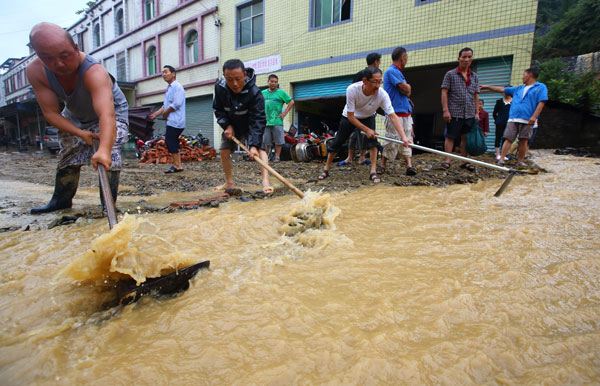 Villagers in Banhe village, Chongqing, try to channel floodwaters so it will not flow into the village on Monday. Torrential rains hit Chongqing on Sunday night, causing flooding in many areas of the municipality. Wang Xin / Xinhua
According to the National Meteorological Center, in the coming 10 days, Yunnan, Zhejiang, Fujian, Hunan and Guizhou provinces and the Guangxi Zhuang autonomous region will see heavy rainfall with some areas receiving up to 300 millimeters of rain.
The consistent heavy rainfall will batter quake-hit Ludian county in Yunnan over the weekend, possibly bringing challenges to post-quake construction and increasing the risk of geological disasters, the national weather forecaster warned.
Zhu Yong, director of the Yunnan provincial climate center, agreed that authorities in the quake-hit region must prepare for potential mudslides and flash floods, which are frequently seen during the province's flood season, generally from May to October.
Su said the water resource authorities will increase water level monitoring, taking flood control measures and removing people from high-risk regions.
As of Tuesday, more than 50 million people from 28 provinces and regions were affected by flooding and more than 4 million people were relocated, while direct economic losses reached 108 billion yuan ($17.5 billion), according to the State Flood Control and Drought Relief Headquarters.
With heavy rainfall expected, southeastern coastal cities are likely to be hit by two or three typhoons in August, according to Su.
He added the typhoons are likely to sweep far inland and cause severe damage to the coastal and inland regions.
Northern China, however, has been hit by severe drought since June with Henan suffering its worst drought in 63 years.
As of Tuesday, about 4.4 million hectares of farmland were hit by drought and about 2.4 million people are facing drinking water shortages, according to the headquarters.
"We must prepare for a worst-case scenario, with severe drought and flood to be fought at the same time," Su said.
wangqian@chinadaily.com.cn