In a report that has been much debated in local media, Zhang Hongwei, a resident of Xinzheng city, Henan province, built a four-storey, 420-square-meter home without applying for approval from the related municipal departments.
In 2012, the neighborhood where Zhang built his home was scheduled for demolition in order to upgrade a national road. Zhang was the only local who didn't agree to relocate.
Earlier this year, Zhang's residence became a problem again when the extension of a subway required that his house would be the one that needed to be demolished.
Once again, Zhang did not cooperate. He asked for more money through vigorous negotiations. The dispute reportedly caused financial losses and other headaches for the subway project.
In a bizarre twist of events on Sunday, Zhang and his wife were allegedly kidnapped while they were asleep and taken to a cemetery. When they returned, according to media reports, their home was completely demolished.
Xinzheng city officials have reportedly said the matter is under investigation.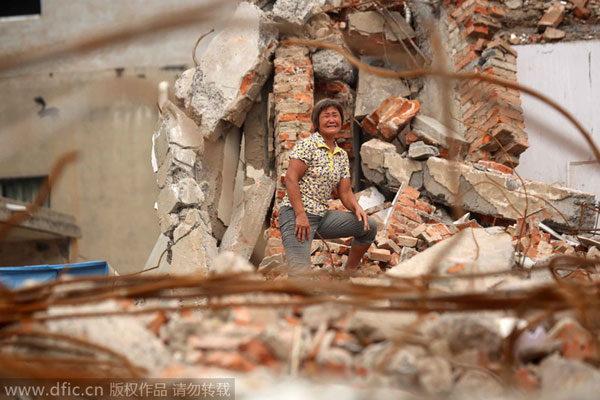 Zhang's mother cries among the ruins of the demolished home on Monday. [Photo/IC]