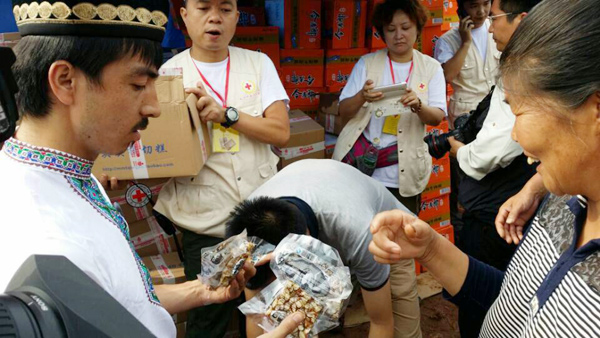 Adil Memettur hands out his Xinjiang nut cake after arriving in Ludian, Southwest China's Yunnan province, Aug 7, 2014. [Photo by Lv Chunrong/chinadaily.com.cn]
LUDIAN, Yunnan - Adil Memettur spent more than 40 hours bumping along the road with 1,400 boxes of his traditional Xinjiang cake before he finally arrived at the epicenter of Sunday's deadly quake in Yunnan province.
"I'm sorry to keep you waiting so long," the young Uygur man said to residents of Longtoushan Town in Ludian County after arriving Thursday afternoon.
He does not tell them that he has travelled c from central China's Hunan Province to Yunnan in southwest China, where the 6.5-magnitude earthquake killed at least 615 people and injured more than 3,000.
"The Xinjiang nut cake is nutritious and easily preserved. It is also Muslim food that suits the ethnic minorities in Yunnan," he said, adding that his 5,000 kilograms of cake can feed 50,000 people for a day.
Adil, 24, has become a popular figure in the country for his online store selling the Xinjiang snack "qiegao," also called "marentang," a dense nougat made from nuts, candied fruits, and malt syrup.
He has just graduated from Changsha University of Science and Technology in Hunan with a major in equipment design and manufacturing.
He and his employees made, cut and packed the cakes overnight to donate to the quake-ravaged area. His store has had to delay all orders from other customers in order to help the disaster victims.
"I have explained to them. Most customers support me and also want to do something for the quake-hit residents," Adil said.
The 5,000 kilograms of cake are worth more than 500,000 yuan (about $81,120), which is a lot of money for his store. He has spent all his funds and the store has run out of cake, and he will have to borrow money to buy raw materials in the future.
When he distributes the cake to residents at the epicenter, Ma Guilan, an ethnic Hui, holds his arm and tells him to send several boxes to the relocation sites on the mountain, where many Hui people live and need the cake most.
"It tastes sour and sweet. It is not bad," said Cai Quan, a 19-year-old villager from Longtoushan. "My home was destroyed by the quake and we had nothing to eat, but now rescuers and volunteers bring milk, instant noodles, porridge and delicious Xinjiang cake to us. I feel grateful to them."
The story of Adil and his cake has been circulated widely on China's Twitter-like Sina Weibo, with more than 50,000 netizens praising his charitable deeds.
Adil was born into a family in Kashgar City in northwest China's Xinjiang Uygur autonomous region. The city has a marentang-making tradition, and Adil learned the art of making the snack growing up.
"I want to tell my friends of Han nationality how beautiful Sayram Lake is and how sweet the Turpan grapes are," he said.
He worries people's misunderstanding of Xinjiang will deepen because of terrorists.
"I don't want Xinjiang to lose the chance to be understood and loved. Through my cake, I hope more people can feel the positive energy," he said.