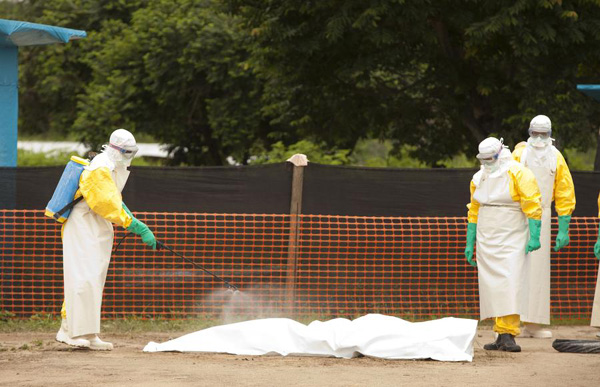 Samaritan's Purse medical personnel spray disinfectant on a person who died from the Ebola virus in the Case Management Center in Foya, Liberia in this undated handout photo courtesy of Samaritan's Purse. An isolation unit for Ebola victims in Liberia's capital, Monrovia, is overrun with cases and health workers are being forced to treat up to 20 new patients in their homes, government officials said on July 30, 2014. [Photo/Agencies]
BEIJING
- China's quarantine authority has ordered strengthened inspections at customs to prevent the deadly Ebola virus from entering the country.
The General Administration of Quality Supervision, Inspection and Quarantine said it will implement stricter inspections on inbound airlines from regions affected by Ebola, and step up sanitary measures on incoming vehicles and goods.
China will also suspend imports of some special goods and animal products, while raising awareness among travelers bound for those regions.
Ebola, which spreads through mucous and other body fluid or secretions such as stool, urine, saliva and semen of infected people, is believed to be very difficult to control.
Four western African countries - Guinea, Liberia, Nigeria and Sierra Leone - have reported 729 deaths from Ebola with 1,323 infected between the start of March and the end of July.