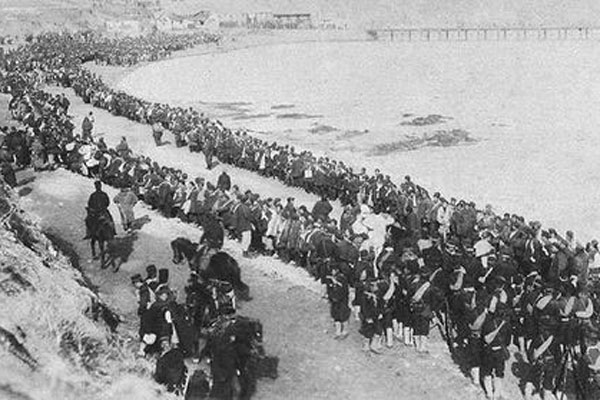 Chinese soldiers captured by the Japanese troops during the first Sino-Japanese War in 1895. [Photo/Xinhua]
The Chinese city of Shenyang, the capital of Northeast China's Liaoning province, has exhibited a map drawn by the Japanese army during the 1894 and 1895 Sino-Japanese war.
The map records Japan's planned attack on Tianzhuangtai in Liaoning in 1895.
Li Ying is a researcher of the exhibition department of the Liaoning Archives.
"The map is marked with a measuring scale of 1:20,000. It reflects the detailed preparation and plan of the Japanese army at that time. The Japanese army attacked from the north bank of the Liaohe River. All the arrows point to Tianzhuangtai at the opposite bank."
Over 2,000 Chinese troops and 600 civilians were killed in the two-day battle.
It was the last and biggest battle in the Sino-Japanese war.
After the defeat, the Chinese government signed the Treaty of Shimonoseki with Japan, ceding the Liaodong Peninsula as well as the islands of Taiwan and Penghu.
This year marks the 120th anniversary of the war.