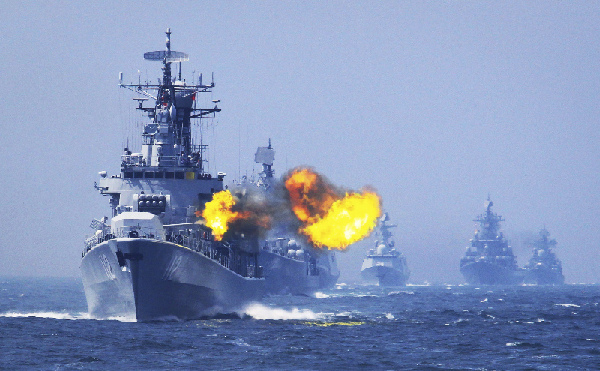 Missile destroyer CNS Harbin conducts live fire exercises during a naval drill this year. Zha Chunming / for China Daily
Related: Joint drills boost Chinese navy 
ABOARD HAIKOU - A senior Chinese navy officer has hailed China's participation in the Rim of the Pacific (RIMPAC) naval exercises as a step towar
ds
enhancing military transparency.
"The Chinese Navy has shown an image full of openness and confidence and deepened mutual understanding between countries as well," said Zhao Xiaogang, drill director of the Chinese fleet.
The US-led exercise featured forces from 22 countries. It began on July 9 and ended on Friday.
Four ships of the People's Liberation Army Navy with about 1,100 soldiers on board joined the world's largest maritime exercise for the first time.
The Chinese fleet was composed of missile destroyer Haikou, missile frigate Yueyang, supply ship Qiandaohu and hospital ship Peace Ark.
Drills covered maritime security, surface warship maneuvers, military medical exchanges, humanitarian rescues and disaster relief. Zhao said the exchanges were "profound and far-ranging".
"I was so impressed with the US Navy's performance, particularly their captains' ability of independently commanding," he said, adding the US Navy has shown its capacity of organizing drills, featuring 25,000 soldiers from around the world.
"The Chinese Navy is keen to join more international maritime exercises on the basis of mutual respect to deepen cooperation with other navies, in a bid to contribute to maintaining world peace and regional security," he said.
RIMPAC, which started in 1971, is the world's largest multinational maritime military exercise.