"Our priority is to save people now. We ask citizens living along the pipelines to evacuate," Chen told TVBS television.
Power was cut off in the area, making it difficult for firefighters to search for others who might be buried in rubble.
The local fire department received reports from residents of gas leakage at about 8:46 pm and that explosions started around midnight.
Closed-circuit television showed an explosion rippling through the floor of a motorcycle parking area, hurling concrete and other debris through the air. Mobile phone video captured the sound of an explosion as flames leapt at least 30 feet (9 meters) into the air.
One of the explosions left a large trench running down the center of a road, edged with piles of concrete slabs torn apart by the force of the blast. Several emergency vehicles were tossed upside down. The force of the initial blast also felled trees lining the street.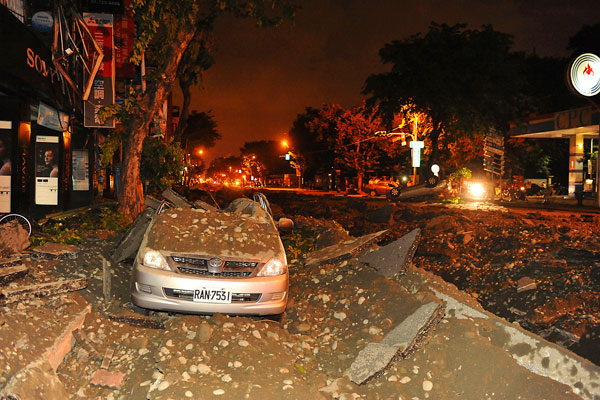 Wreckage of a damaged car is pictured after an explosion in Kaohsiung city of China's Taiwan, August 1, 2014. Gas leaks in the sewage system in the city led to multiple explosions late Thursday night. [Photo/Agencies]