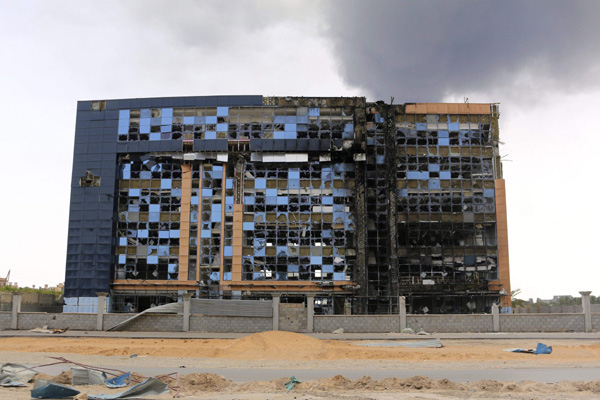 A damaged building is pictured after clashes between rival militias, in an area at Alswani road in Tripoli July 28, 2014. China, France, Germany, Netherlands, Britain and US have already told their citizens to leave Libya due to the severe security conditions there.[Photo/Agencies]
About 1,100 Chinese nationals are now leaving warring Libya on roads, by air and are planning to leave by sea due to a deteriorating security situation there, diplomatic sources told Xinhua on Wednesday.
Some 1,000 Chinese citizens have already left Libya since May when the security situation sharply slid backward. But still around 1,100 Chinese presently remain in the restive North African country, according to Political Counselor for the Chinese Embassy in Libya Yan Jianqun.
Many Chinese corporate staff, businessmen and contract workers have ventured a road trip into neighboring Tunisia, while others hitched a plane using the remaining operational air hubs like Tripoli's Mitiga Airport and Misrata Airport. Some Chinese companies also planned to rent a liner from Athens to pick up their employees, Yan added.
Libya has witnessed a drastic escalation of violence since the 2011 turmoil which toppled its former leader Muammar Gaddafi. Some analysts feared that the recent battle between armed Islamist groups and pro-secular forces in major cities, including Tripoli and Benghazi, could easily turn into a full-fledged civil war.
Earlier on Monday China called on its nationals in Libya to leave the country "as soon as possible" and demanded all Chinese companies to evacuate their staff before Aug. 1, citing the deteriorating security situation. The Chinese embassy has said it will provide all necessary assistance accordingly, including organizing evacuation channels and setting emergency contact numbers on its website.
Earlier in July, France, Germany, the Netherlands, Britain and the United States also told their nationals to leave Libya.