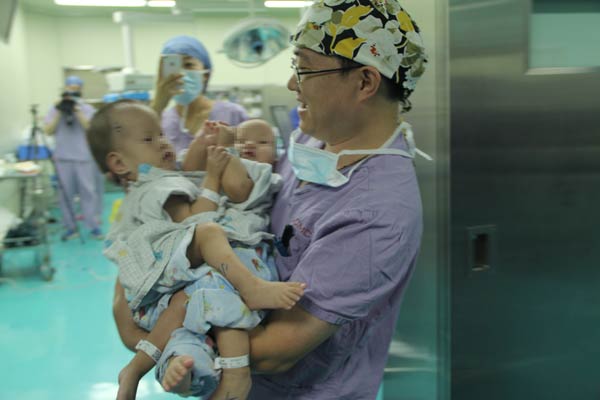 A doctor holds the conjoined twins before an operation to separate the sisters. [Photo provided to chinadaily.com.cn]
Shanghai doctors successfully separated a pair of conjoined twin baby girls on Wednesday.
The 11-month-old twins, Zheng Hanjing and Zheng Hanwei, were joined at the chest and abdomen. They weighed a combined 13.7 kilograms and shared one liver and part of a heart-sac.
The separation operation was conducted by a group of leading experts on cardiothoracic surgery, orthopedics, anesthesiology and diagnostic radiology and other clinical specialists from the Shanghai Children's Medical Center. The surgery began at 8 am and lasted four hours.
The baby girls are in the Intensive Care Unit receiving further care and doctors said the first week after surgery is still a crisis period.
The babies were abandoned at birth and discovered by police in August last year. The conjoined twins were then taken in by the Pingdingshan Child Welfare Home in Henan province.
The girls have been receiving medical care at Angel's Home in Beijing since last year. The charity organization consulted many hospitals and finally decided to send the twins to the Shanghai Children's Medical Center, where doctors have successfully separated three pairs of conjoined twins previously.
The girls arrived in Shanghai on June 19 and their operation was paid for from donations from individuals and enterprises, according to the Pingdingshan Child Welfare Home.