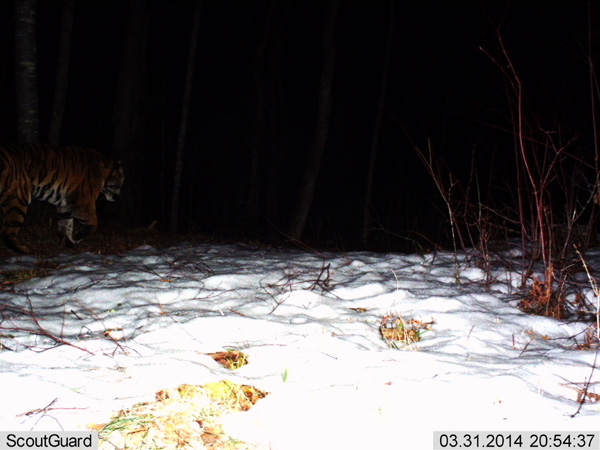 A WWF camera trap photographed a wild Amur tiger on March 31. Provided to China Daily
The World Wide Fund For Nature announced on Tuesday that one of its camera traps photographed a wild Amur tiger walking toward the Sino-Russian border in Suiyang, Heilongjiang province, on March 31.
The camera traps were jointly set up in Sanchahe forest farm by the Suiyang forestry bureau, the State Forestry Administration Feline Research Center and WWF's Asian Big Cats Team.
Suiyang, which is close to both Russia and Hunchun, Jilin province, is part of an important corridor for Amur tigers, also known as Siberian tigers, entering China.
Suiyang is the priority area for Amur tiger conservation, and cooperation with the locals enables WWF to grasp the dynamics of wildlife in the region, said Shi Quanhua, head of the WWF Asian Big Cats Team.
Efforts by all participants in the cooperation have ensured the integrity of the conservation area for the tigers, Shi said.
The tigers, one of the world's rarest mammals, live in Eastern Russia, Northeast China and northern parts of the Korean Peninsula. Fewer than 500 remain in the wild.
China puts its own number of wild Siberian tigers at between 18 and 22.