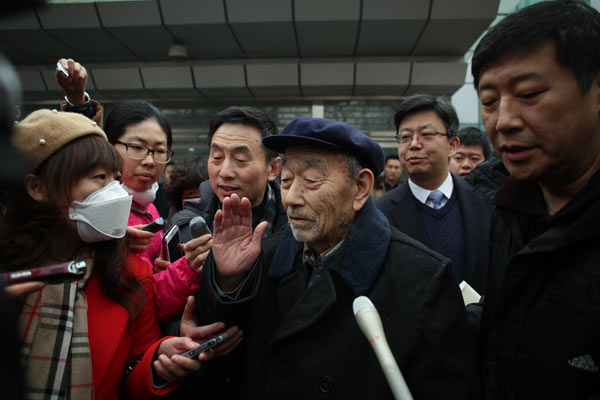 Zhang Shijie (middle), an 88-year-old survived forced laborer who was transported to Japan to work as a miner in 1944, speaks to reporters after filing a lawsuit against certain Japanese companies in Beijing on Feb 26, 2014. [Photo by Wang Jing/Asianewsphoto]
BEIJING - A Beijing court accepted a lawsuit on Wednesday demanding compensation for Chinese citizens made by the Japanese to work as forced laborers during World War II.
The 37 people who have lodged the suit include lawyers and academics as well as forced laborers and their families, according to Chinese media reports.
Chinese television said the lawsuit seeks printed apologies carried in Chinese and Japanese newspapers as well as compensation from Mitsubishi Materials and another unidentified company.
"As there is no way to get justice in Japan, the Chinese victims of forced labour and their families are determined to sue in China the Japanese companies which did them harm," Zhang Shan, a member of the class action suit, told the China News Service.
Dozens of wartime compensation suits have been filed previously in Japan against Japan's government and companies associated with its aggression in the first half of the 20th century, including World War II.
Almost all have been rejected by Japanese courts.
A Mitsubishi Materials spokesman said the company was unable to comment because it did not know the details of the latest case.
Japan's Chief Cabinet Secretary Yoshihide Suga said he was aware of reports on the case but declined to give any detailed comment because it was a case between individuals and private companies.
The relations between China and Japan have been strained by the territorial dispute about the Diaoyu Islands in East China Sea.