Canada said its termination of two investor immigrant programs does not target China, but Chinese agencies said the policy change is unfair.
Analysts said the Canadian policy may herald a new era that wealthy applicants must improve their social integration in and increase financial contributions to destination countries.
"All of Canada's immigration programs are open to anyone who meets the criteria, and do not target specific countries," the Canadian embassy in China told China Daily.
Citizenship and Immigration Canada said in a written interview that China "has been among the top sources for more than a decade", and immigration is a key part of Canada's plan to "grow our economy, spur job creation, and ensure long-term prosperity for all Canadians".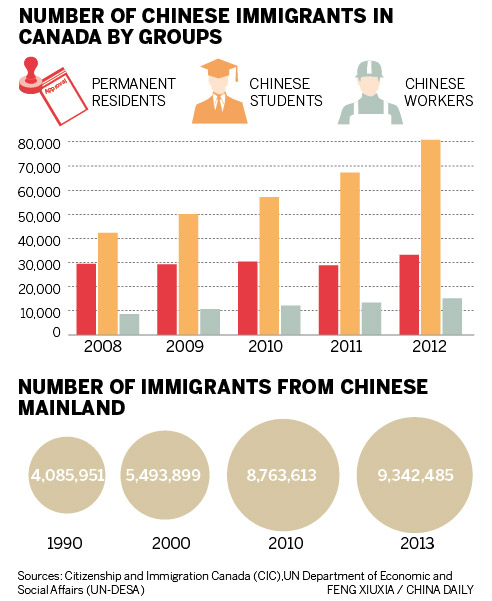 Controversy arose after the Canadian government announced plans last week to terminate the federal Immigrant Investor Program and Federal Entrepreneur Program.
The IIP requires investors to have a minimum net worth of 1.6 million Canadian dollars ($1.5 million) and to invest 800,000 Canadian dollars in the form of a multiyear, interest-free loan to the government.
Citizenship and Immigration Canada said: "Research shows that immigrant investors pay less in taxes than other economic immigrants, are less likely to stay in Canada over the medium- to long-term and often lack the skills, including official language proficiency, to integrate as well as other immigrants from the same countries."
Liu Qinglong, a professor at Tsinghua University's School of Public Policy and Management, said the policy change illustrates Canada's possible underestimation of decades of growing wealth in China and the consequent demand for migration.
"A low threshold brought unexpected investor immigrants, and consequently a range of issues," Liu said.
Fiona Li, 30, a Chinese national working at an engineering business in Vancouver and a potential applicant for technology migration, said there is widespread discontent among residents about investor immigrants because of the latter's inadequate contribution to communities.
"Many of them supported the policy change because they simply believe it is 'totally unfair' if the number of wealthy immigrants are not controlled. Some others insist that 'money is not almighty, and a permanent residence should not be traded'," Li said.
Frank Meng, who leads a consulting agency introducing investor immigrants to Canada, said it was not the first time Canada has raised immigration thresholds, and the programs' termination, if passed by Canada's Parliament, will disappoint the majority of the applicants
All 65,000 pending applications will reportedly be returned and paid fees refunded, and about 70 percent of the backlog came from Chinese applicants, the South China Morning Post reported.
"As far as I know, most of the applicants who submitted paperwork have waited for years — some even more than five years," said Meng, president of Beijing Jiazhong Global Investment Consultation.
People may harbor doubts about the credibility of the government, he said.
China is the largest source of migrants in the world, and analysts said Chinese may alter their destinations given Canada's policy changes.
Sun Zhe, director of the Center for US-China Relations at Tsinghua University, said: "Canada's policy updates will hardly deter Chinese investor immigrants as a whole."
North America and Europe will continue to have greater appeal to Chinese, and some may look to destinations including New Zealand and Singapore for lower tax rates, Sun said.
Wang Huiyao, director of the Center for China and Globalization, said some European countries may take the chance to offer lower thresholds to "attract wealthy Chinese who have impending needs for children's education abroad or business expansion."
It is also possible that some other destination countries may follow Canada to raise thresholds if its new immigrant programs prove a success," Wang said.
Contact the writers at zhangyunbi@chinadaily.com.cn and mojingxi@chinadaily.com.cn