DAVOS, Switzerland - Chinese Foreign Minister Wang Yi said here Friday that China will provide the world with more "Chinese opportunities" in development as it is embracing a new round of comprehensive reforms.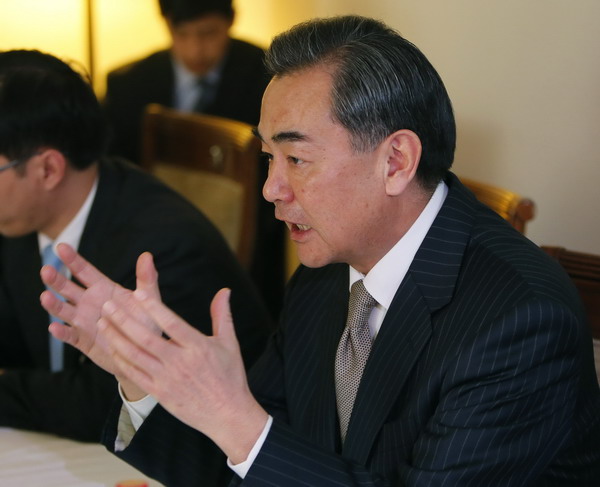 Chinese Foreign Minister Wang Yi meets with US Secretary of State John Kerry (not pictured) in Montreux, Switzerland January 22, 2014. [Photo/Agencies]
China's new reform drive will not only herald a new era for its own development but also have extensive and positive impacts on the world, Wang said during the World Economic Forum (WEF) annual meetings.
An increasingly prosperous China will provide the world with more "Chinese opportunities" in development, namely market opportunities, investment opportunities, growth opportunities and cooperation opportunities, he told a special session on China.
"China has every confidence in the success of its reform," Wang said, noting the confidence came from the country's fine tradition of constant self-improvement and its over-5000-year splendid civilization.
It also came from the right path the country has chosen, from the  strong leadership of the Communist Party of China, from the country's huge development space and potential as well as from its win-win strategy of opening-up, Wang added.
Meanwhile, he said that China would contribute more of the "Chinese power" to world peace, remain committed to the path of peaceful development, undertake more international obligations, and play an even more active and productive role in resolving hotspot issues, he said.
China will continue to handle disagreements and differences through equal-footed consultations while working with other countries to safeguard human conscience and international justice, he said.
Wang noted that Chinese President Xi Jinping has outlined the vision of the Chinese dream, which is to achieve the great renewal of the Chinese nation, saying the new round of reform launched in China served just as the right path that would lead the country to this goal.
The steady process of realizing the Chinese dream will not only benefit China but also benefit the world at large, he said.
As an important member of the international community, China will also work with other countries and make its due contribution to the development and progress of mankind, said Wang.
The WEF Annual Meeting, scheduled for January 22-25, is themed "Reshaping of the World: Consequences for Society, Politics and Business."