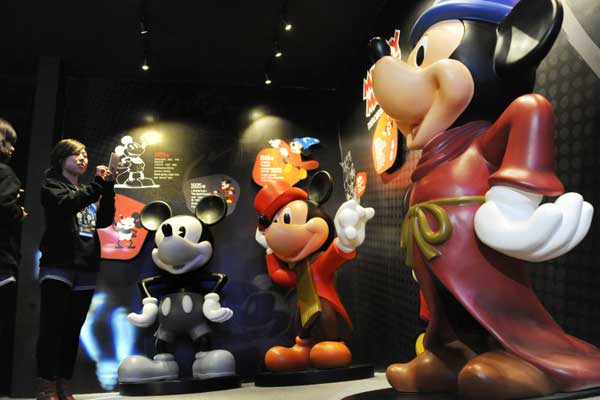 Visitors take photos of Mickey and Minnie Mouse at the exhibition commemorating the Walt Disney Company's 90th anniversary in Zhengda Square in Shanghai on Dec 18, 2013. Provided to China Daily
Shanghai Disney Resort will have completed operational plans this year for traffic and safety, as well as coping with a flock of visitors ahead of the resort's opening at the end of 2015.
"We'll make plans taking into consideration the particulars of the domestic market based on the experience of holding the 2010 Shanghai World Expo," said Fan Xiping, chairman of Disney's Chinese joint venture partner in Shanghai Disney Resort, Shanghai Shendi Group.
"For example, large visitor flows are expected during the National Day holiday and the weekend after the national college entrance exam," Fan said on Wednesday.
"We'll be committed to ensuring a safe and orderly operation, especially when there's a huge visitor flow or bad weather, to keep the best service standards and create an immersive and unforgettable experience for guests," said Fan.
Construction of six themed zones in the resort as well as two Disney-themed hotels and retail, dining and entertainment districts are also on track in the 3.9-square kilometer resort in Pudong.
Construction of a "mountain", an attraction in the resort's Magic Kingdom-style theme park, started last week. The mountain will be the second highest structure at Shanghai Disney Resort after the Enchanted Storybook Castle. On completion, it will stand as the highest mountain in Pudong, according to the public communications department of Shanghai Disney Resort.
"The main projects in Disneyland will be completed this year and people will see the outlines of the castles and themed lands," Fan said.
They are also promoting the development of surrounding projects in the Shanghai International Tourism and Resorts Zone, which will include an outlet complex and ecological gardens.
Some political advisers urged Shanghai to introduce more world-class cultural and entertainment projects to build the zone into an international attraction.
"The Shanghai tourism department may talk to more first-class projects that have global recognition, who I believe will be interested and confident of the prospects of the zone in Shanghai, to build the city into a destination for travelers from around the world," said Guo Guangchang, a member of the Shanghai Committee of the Chinese People's Political Consultative Conference and chairman of Fosun International, which is involved in industrial operations and asset management.
These projects should be complementary to Disneyland so that visitors will have rich and novel experiences, he said.
Chen Chao, another committee member, said prestigious cultural influence is an important factor when tourists look for a destination.
zhouwenting@chinadaily.com.cn