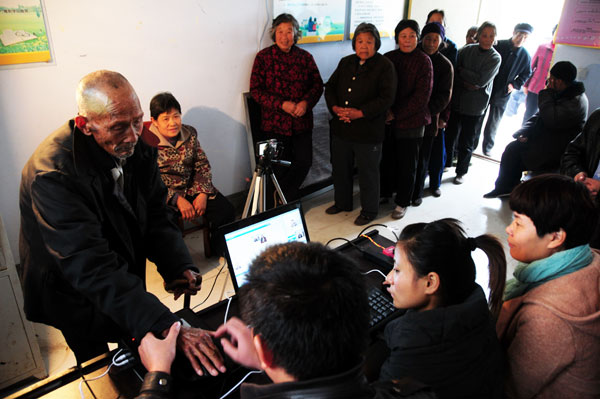 Biological information is collected from retirees, all older than 60 years, in Linyi, Shandong province in November. The information will be used in the future to confirm their identities more quickly. Fang Dehua / for China Daily
The State Council will increase enterprises' retirees' pensions by 10 percent.
The decision was made at the Cabinet's executive meeting led by Premier Li Keqiang on Wednesday. The move will benefit more than 74 million people who have retired from domestic enterprises.
The State Council urged government departments to reform their endowment insurance and pension systems.
The meeting also pledged to improve the social assistance system, which helps disadvantaged groups.
The social assistance system, when revamped, will offer financial aid that will meet the disadvantaged groups' standards of living.
The central government has allocated more than 98 billion yuan ($16 billion) to help disadvantaged groups, and the government has asked that local authorities make sure the money will be given to the needy in a timely manner. It also encouraged nonprofit organizations to take part in the relief effort.
Wang Xiuling, 56, a retired worker in Beijing, said she welcomed the government's move to increase her pension and expected more favorable measures.
"The prices of daily necessities and healthcare have been rising over the past years, so I hope the government will do more to take care of our needs."