An unidentified person poured gasoline and set fire on the main entrance of the Chinese consulate-general in San Francisco on Wednesday, seriously damaging the gate, the consulate-general's website said Thursday.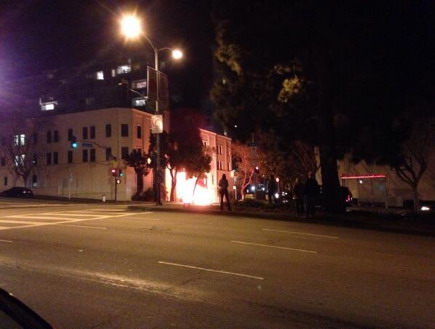 Arson scene at the Chinese consulate-general in San Francisco on Wednesday. Photo credit to ifeng.com.
"January 1, 2014, at 9:25 pm (1:25 pm Beijing Time), a person from a mini-van parked in front of the main entrance of the Chinese Consulate-General in San Francisco poured two containers of gasoline on the front door of the consulate, and then set it on fire, causing severe damaged." read the consulate's website.
"The San Francisco Police Department, Fire Department and the Bureau of Diplomatic Security of the US State Department arrived on the scene immediately in the wake of the attack. An investigation is now underway."
"The arson attack is a violent crime targeted at the Chinese consular institution in the United States, causing severe damage to the consulate facilities and posing a threat to the safety of the consulate staff and the residents living nearby. We strongly condemn this despicable act and have already met with representatives from the US side regarding the attack. We urge the US side to take all necessary measures to provide adequate protection for Chinese consular personnel and properties, and bring the culprit(s) to justice as soon as possible," the website read.