2013-10-08
China is ready to promote mutually beneficial cooperation with ASEAN during the upcoming East Asia leaders meetings, Vice Foreign Minister Liu Zhenmin said Monday.
2013-10-08
Chinese President Xi Jinping said here Monday that China is committed to promoting regional peace and development, and building a cross-Pacific cooperation framework.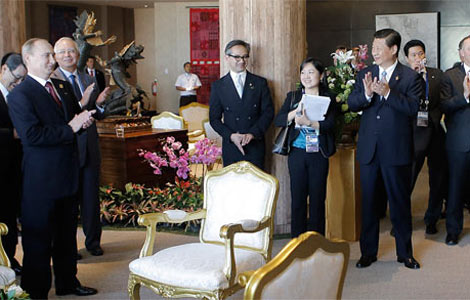 2013-10-07
2013-10-07
Beijing and Seoul on Monday pledged to push forward free trade negotiations to upgrade cooperation, as President Xi Jinping met with Republic of Korea President Park Geun-hye on the sidelines of the APEC summit.
2013-10-07
Asia-Pacific economies will count on enhanced regional connectivity to stimulate trade and attract investment as the member countries seek decisive measures to improve regional economic integration, industry experts say.
2013-10-07
President Xi Jinping warned on Monday against a world trade regime fragmented by various free trade arrangements, calling for determination to conclude the long-stalled Doha Round of global trade talks.
2013-10-07
APEC host Indonesia has reiterated its unwillingness to join the Trans-Pacific Partnership (TPP) agreement being negotiated, but conceded that the country will closely observe steps taken by China, an official said on Monday.
2013-10-07
The Chinese business community highly values the contribution of APEC and pledged more active participation in CEO summit and other related activities of the APEC, said a Chinese official at a news briefing Monday.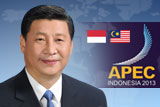 Thoughts after hearing Xi's speech
I was very happy to see that Xi Jinping did focus on trade and on the importance of Asia Pacific trade being cooperative and inclusive.