2013-10-02
As the Asia Pacific Economic Cooperation (APEC) Economic Leaders' Week and related meetings kicked off on Tuesday, leaders and ministers from 21 Pacific-Rim economies will commence discussions with the focus on strengthening free trade and investment in the region, a senior organizer official said on Wednesday.
2013-10-02
Philippine President Benigno S. Aquino III will leave for Indonesia and Brunei Darussalam next week to attend regional summits, the Department of Foreign Affairs (DFA) said Wednesday.
2013-10-02
Japanese Prime Minister Shinzo Abe will kick off a five-day overseas trip from Oct 6 to Indonesia and Brunei to attend meetings of the Asia-Pacific Economic Cooperation (APEC) and of the Association of Southeast Asian Nations (ASEAN).
2013-10-01
Hong Kong Chief Executive CY Leung will attend the Asia-Pacific Economic Cooperation (APEC) 2013 Leaders' Week in Bali from Oct 5 to 8, according to a release by the city's Information Service Department,
2013-09-30
New Zealand Prime Minister John Key is to push for greater market openness when he attends two major Asia-Pacific regional leaders meetings next month.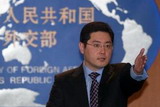 2013-09-30
China hopes the upcoming APEC summit will promote trade liberalization, facilitation and integration of multiple free trade agreements.
2013-09-29
Social activities and environmental development become priorities and strategic issues, as it involves direct stakeholders, including economic delegation for APEC Women and Economy Forum (WEF APEC) 2013, which saw the concrete importance of the role of women entrepreneurs as the actor of microeconomic and the pillar of family.
2013-09-29
Kolinlamil Ready to Secure the APEC Summit
2013-09-17
Hong Kong's Financial Secretary John Tsang will attend the Asia-Pacific Economic Cooperation Finance Ministers' Meeting held in Bali, Indonesia on September 18.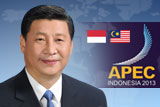 Thoughts after hearing Xi's speech
I was very happy to see that Xi Jinping did focus on trade and on the importance of Asia Pacific trade being cooperative and inclusive.