HK Chief Executive to attend APEC meeting
By ( Xinhua )
Updated: 2013-10-01
HONG KONG - Hong Kong Chief Executive CY Leung will attend the Asia-Pacific Economic Cooperation (APEC) 2013 Leaders' Week in Bali from Oct 5 to 8, according to a release by the city's Information Service Department,
Leung will attend the APEC Economic Leaders' Meeting and meet APEC Business Advisory Council Members. He will also attend the APEC CEO Summit, where President Xi Jinping will deliver a speech, and meet with foreign leaders.
The theme of this year's APEC meeting is "Resilient Asia-Pacific, Engine of Global Growth" with three priorities - attaining the Bogor Goals, achieving sustainable growth with equity, and promoting connectivity.
Chief Secretary Carrie Lam will be Acting Chief Executive during Leung's absence.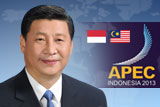 ASEAN members take lead from Indonesia being the largest of them all in many ways. China's relationship with it must get better.