Japan's PM to attend APEC, ASEAN meetings
By ( Xinhua )
Updated: 2013-10-02
TOKYO - Japanese Prime Minister Shinzo Abe will kick off a five-day overseas trip from Oct 6 to Indonesia and Brunei to attend meetings of the Asia-Pacific Economic Cooperation (APEC) and of the Association of Southeast Asian Nations (ASEAN).
On the Indonesian resort island of Bali, Abe will also attend a summit on October 8 with leaders of nations involving the US-led Trans-Pacific Partnership (TPP) free trade talks. The TPP talks will be held on the fringes of the APEC summit.
Abe is expected to hold talks with Russian President Vladimir Putin on the sidelines of the APEC regional meetings, according to local media.
Japan's Foreign Minister Fumio Kishida will also take part in the APEC ministerial meeting on Friday and Saturday.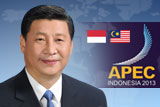 ASEAN members take lead from Indonesia being the largest of them all in many ways. China's relationship with it must get better.