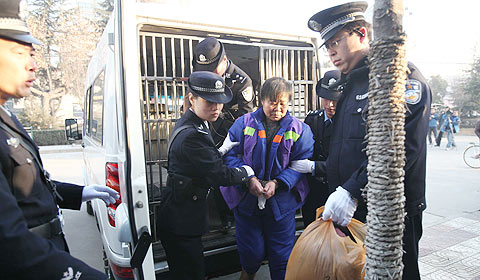 Zhang Shuxia, a former obstetrician who was charged with child traffi cking, is escorted to Weinan Intermediate People's Court in Shaanxi province on Monday. HEI KE / FOR CHINA DAILY
A former obstetrician-gynecologist in Fuping county, Shaanxi province, went on trial on Monday at Weinan Intermediate People's Court charged with human trafficking.
Zhang Shuxia, 55, who also went by the name Zhang Suxia, was the former deputy director of obstetrics at Fuping County Maternal and Child Healthcare Hospital. She is accused of selling babies she delivered after persuading their parents to give them up on the false claim that the babies suffered congenital diseases or disabilities.
Zhang sold seven babies from 2011 to 2013, the court was told, and caused the death of one, according to the Weinan City Procuratorate.
During the trial, a trove of evidence was displayed, and several witnesses - including doctors and nurses who worked with Zhang, her accomplices and women who had given birth at the hospital - testified to Zhang's criminal activities.
Zhang's lawyer showed awards she had received, and said she did good work for her patients.
The prosecutors said the awards did nothing to alleviate Zhang's guilt.
At the end of the trial, Zhang wept and kneeled to apologize to the victims. However, she also said the parents of the babies were partly responsible because they voluntarily signed agreements to give up their children.
The verdict has not yet been issued.
Other defendants in the case will be tried separately.
Some 150 people, including local lawmakers, political advisers, representatives of medical workers, reporters and relatives of victims, attended the trial.
The events of the case were first exposed by a local farmer named Lai Guofeng.
On July 16, Lai's wife, Dong Shanshan, gave birth to a baby boy at the hospital. Zhang told them the child had syphilis and hepatitis B, transmitted from the mother, and would not survive.
Zhang did not let the couple see their baby but said he had already been taken away.
Lai questioned the doctor's diagnosis and took his wife to another county hospital for syphilis and hepatitis B tests the following day. Two days later, the test results showed his wife was free of both diseases.
On July 20, Lai contacted police who investigated and found the baby in Henan province 20 days after he was born.
Police detained Zhang, who confessed, they said, that she had sold the baby for 21,600 yuan ($3,560) to two people from Shanxi province in the early morning of July 17.
Police obtained surveillance video of Zhang taking a baby out of the hospital, and they later detained eight other suspects in the case.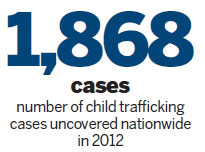 After news of the case became known, seven more local women reported they had given birth in the same hospital and Zhang had encouraged them to give up their babies, saying they were seriously ill.
On Aug 6, the National Health and Family Planning Commission went public about the incident and urged the Shaanxi Health Department to punish those responsible and improve the management of its medical system.
By Aug 9, police had rescued three babies sold by Zhang, and returned them to their parents.
The Shaanxi health authority then issued an emergency notice of safety inspections of the province's health system to improve its management.
The provincial health authority revoked Zhang's license to practice on Aug 6.
On Aug 9, six county officials were removed from their positions, including Li Leiping, deputy head of the county, and Ji Xinmin, director of the county's health administration bureau.
According to Shi Ying, deputy director of the Shaanxi Academy of Social Sciences, Zhang used lies about congenital diseases and disabilities because that meant the parents, mostly local farmers, would have to spend a lot of money to treat their children, which would impose a heavy economic burden.
"We should take more stringent measures to put an end to such cases and improve the farmers' awareness of congenital diseases or disabilities, and also further enhance the rural medical security system," Shi said.
In 2012, police nationwide uncovered 1,868 cases of child trafficking and 4,760 cases of trafficking of women.
Contact the writers at malie@chinadaily.com.cn and luhongyan@chinadaily.com.cn