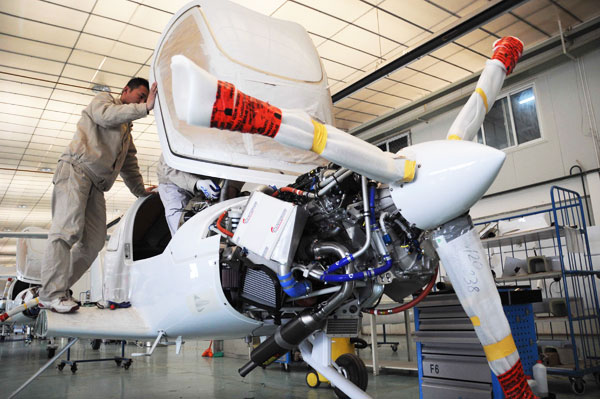 A worker from an aircraft manufacturer assembles an airplane in Binzhou, Shandong province, in March. Experts say the new pilot requirements will encourage more people to take up flying. ZHANG BINBIN / FOR CHINA DAILY
Physical requirements eased for students eager to earn their wings
China has eased requirements for trainee pilots hoping to fly private aircraft, a move experts say will boost the general aviation sector.
Changes have been made to the standards for theoretical exams, flight tests and physical condition that a flight student for private aircraft must meet before obtaining a certificate, the Civil Aviation Administration said in a statement.
"Before the standards were loosened, physical requirements for private aircraft pilots were as stringent as for those wishing to fly commercial aircraft," said Li Xiaojin, a professor at the Civil Aviation University of China.
"Because more and more people have begun to procure private aircraft or apply for flight certificates for business or recreational purposes, the adjustment came at the right time."
In the past, flight students in China were subject to rigorous standards because most of them would fly military or commercial aircraft after they graduated from flight academies, he explained.
He added that equipment used on aircraft in the past were not as advanced as today, so pilots had to have a strong physique to handle flight controls.
Under the new requirements, those aged 17 or above who have received at least three years of education at a middle school will be eligible to apply for a private pilot's license, applicable only for noncommercial flights.
The biggest change made to the previous requirements is in the physical criteria an applicant must meet.
Requirements for height, weight and eyesight were altered and those who have chronic diseases, like diabetes, hypertension or coronary artery disease, which would disqualify them in the past, are allowed by the new rules to take flight courses.
"After the adjustment, physical requirements for the holder of a private pilot license have become as flexible as those for car drivers," the Civil Aviation Administration said.
After receiving a certified report of their physical fitness, flight students will also have to go through 40 hours of theoretical studies and another 40 hours of flight training before they sit final exams.
Passing the tests will allow them to hold a private pilot's license, the administration said, noting there are about 40 flight academies in China.
It added that those who obtained licenses can also become professional pilots by acquiring a commercial pilot's license, but that will be based on their flight time as a private pilot and will require higher levels of flight training.
Qian Wei, chairman of the AVIC Flight Academy, welcomed the new rules, saying they will help to encourage more people to pursue their dreams of flying.
"My academy rejected a young woman's application even though she was eager to study flying and would have made a good pilot based on her excellent condition," he said. "The only factor that disqualified the woman was the fact that she was 2 centimeters shorter than the required height. It was a shame but we couldn't do anything to help her."
Fewer than 100 Chinese people are receiving training for private licenses, and the relaxation will unleash a market that has huge potential, Qian said.
Zhong Ning, a spokeswoman for the Civil Aviation Administration, said only 345 people in China have private licenses.
She added the administration has published a succession of favorable measures for China's general aviation sector over the past month.
In an attempt to simplify procedures, the administration said that as of December, flights of general aviation aircraft would no longer need to submit applications to, and get approval from, authorities unless they were involved in nine specific scenarios.
These include entering or exiting China's territories, flying through restricted zones, and conducting aerial photography or surveys of military facilities.
In a previous announcement, it abolished the base fare for domestic flights, saying airlines can set their own prices.
The government will also design favorable policies for low-cost carriers and promote diversification in the industry, said Xia Xinghua, deputy director of the administration.
Gao Yuanyang, director of Beihang University's General Aviation Industry Research Center, said although the government has been gradually improving its policies and management, a degree of caution is still needed toward the industry's prospects.
"The rapid growth in this sector, which has been anticipated by many people, is far from occurring," he said. "The industry is still being hindered by the absence of specific policies, a lack of professionals and facilities, unbalanced allocation of airports, and outdated management methods."
zhaolei@chinadaily.com.cn