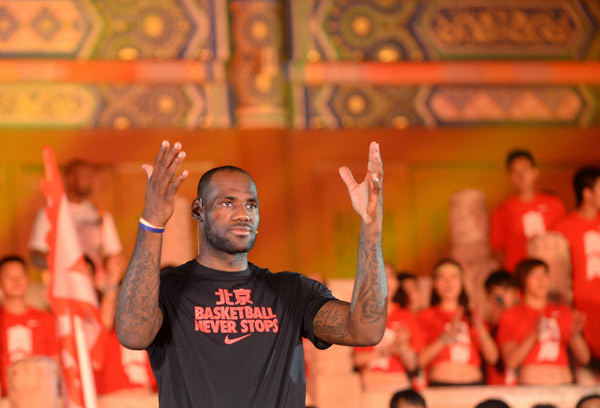 NBA player LeBron James calls young Chinese to go out for exercise in Beijing on July 27, 2013. [Photo by Cui Meng/Asianewsphoto] 
US-based sports organization has gone from one success to another in China, surprising industry observers, as Shen Jingting reports
It was a harsh winter in 1987 when David Stern, the commissioner of the United States-based National Basketball Association, flew to Beijing to ask State broadcaster China Central Television to air video clips of basketball games.
Stern promised to offer content for free, as long as CCTV agreed to open a window to the many Chinese viewers who hadn't previously enjoyed watching professional basketball competitions.
Since then, the NBA has gone from one success to another in China, astonishing many industry observers and even Stern himself. China has become the NBA's biggest overseas market, with more than 300 million basketball fans and followers.
Now, the association is aiming to turn its basket of businesses into real money.
David Shoemaker, chief executive officer of NBA China, said the company has achieved double-digit growth every year since it was established in 2008.
"We believe NBA China will maintain that momentum in the foreseeable future," said Shoemaker, in an interview with China Daily.
The NBA's expansion in the Chinese market has yet to hit a ceiling. Stern is set to step down as NBA commissioner in February, but he said that the association's development in China won't slow down after his departure.
The legendary sports leader said that he's satisfied with the NBA's achievements in China over the past 26 years. However, there is always room for NBA to grow in the country.
"We need to further increase the popularity of our game and bring its values to Chinese fans," Stern said during his latest trip to Beijing in October.
The league has sensed a new gold mine in China's huge mobile population. China has more than 1.2 billion mobile subscribers, and it's emerged as the world's biggest smartphone market.
"It's not a crisis but an opportunity as more young people turn to the digital and mobile world," Stern said. If the NBA jumps on the mobile bandwagon, the league is likely to attract more young fans and broaden its audience in China, he added.
Web games
Many recent moves have demonstrated the NBA's determination to conquer this market. NBA China has renewed its partnerships with Chinese Internet giants Sina Corp and Tencent Holdings Ltd. These alliances will help NBA game content reach a broader viewer base.
Sina has a Web page for each of the 30 NBA teams. The company has also held online sessions with Chinese NBA fans.
For its part, NBA China opened official accounts on Sina Weibo, the micro blog platform, and WeChat, a mobile chatting tool developed by Tencent. It has more than 25 million fans and followers on Sina Weibo so far.
Another way for NBA China to venture into the mobile market is to cooperate with handset manufacturers. China is a global manufacturing base for smartphones, and the country boasts many top-level mobile phone vendors such as Lenovo Group Ltd and Huawei Technologies Co Ltd.
In October, the NBA announced an alliance with the world's fourth-largest mobile phone producer, ZTE Corp, which is based in China's southern city of Shenzhen.
Under the agreement, NBA will embed tailored apps in ZTE smartphones and offer exclusive content to ZTE device users.
"The unique feature of NBA games in China is that they are, with rare exception, played in the morning," Shoemaker said. As a result, many people miss the games because they are on their way to work or school.
"I think the real opportunity for us is to get our content, whether it is live games, or highlight clips, or fun videos from the locker room, into the hands of our fans who are holding mobile handsets and tablets," Shoemaker added.
Stern said the NBA needs to put more resources into its own people so that it can take advantage of the opportunity presented by so many potential fans. A staff expansion plan is in the works.
"We have offices in Shanghai, Beijing and Hong Kong, but nothing in Harbin, or in the west, so there is an enormous opportunity. We just have to steadily grow our presence here and take advantage of that," Stern said.