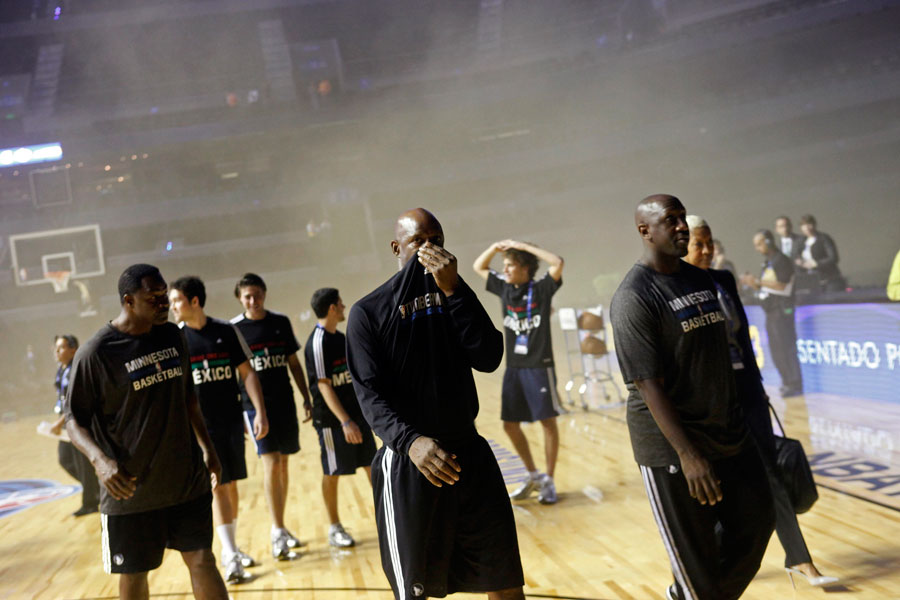 Minnesota Timberwolves players walk off the court amid smoke after a transformer exploded at the Mexico City Arena in Mexico City Dec 4, 2013. The incident caused by a malfunctioning generator, according to NBA spokeswoman Sharon Lima, resulted in a blackout and the evacuation of players of both the Minnesota Timberwolves and the San Antonio Spurs, as well as journalists in the arena before the official NBA basketball game began, local media reported. At the time of the incident, there were no spectators in the arena, and no casualties have been reported. [Photo/Agencies]
MEXICO CITY - The NBA says the game between the San Antonio Spurs and Minnesota Timberwolves has been postponed because of smoky conditions inside the Mexico City arena.
The game scheduled for Wednesday night will be made up in Minnesota at a later date.
The arena was evacuated about 45 minutes before the scheduled 9:30 pm EST tipoff when a generator malfunction outside the arena sent smoke pouring into the building, according to NBA spokeswoman Sharon Lima.
About 15 minutes after the scheduled start, the Spurs bus pulled away from the building. The Timberwolves bus followed soon after.
While the teams were warming up for their regular-season matchup, lights went out in parts of the arena and smoke began pouring out of vents in the upper deck.