US urged not to send out signals that could fuel Japan's wrongdoing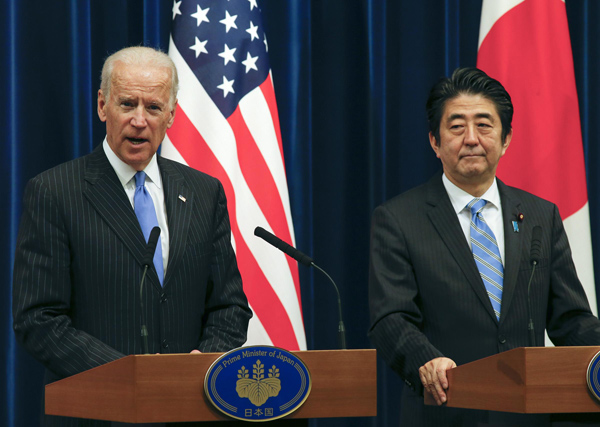 US Vice-President Joe Biden (L) holds a joint press conference with Japanese Prime Minister Shinzo Abe in Tokyo, on Dec 3. Biden called China's air zone "an attempt to unilaterally change the status quo" and said that he will raise US concerns when meeting with President Xi Jinping later this week in Beijing.[Photo/Xinhua]
China's air defense identification zone (ADIZ) in the East China Sea promotes "safety instead of danger, cooperation instead of confrontation", officials said in response to opposition from Japan and the United States.
Ministry of National Defense spokesman Geng Yansheng said on Tuesday that Japan needs to reflect on its own actions and correct its mistakes, while other parties should speak and act cautiously in order not to send signals that could fuel Tokyo's wrongdoing.
He made the remark after Japanese Prime Minister Shinzo Abe said on Tuesday that Tokyo and Washington confirmed their cooperation on how to handle the air zone during talks with visiting US Vice-President Joe Biden.
Biden called China's air zone "an attempt to unilaterally change the status quo" and said that he will raise US concerns when meeting with President Xi Jinping later this week in Beijing.
He said the declaration of the zone has raised regional tensions and increased the risk of accidents and miscalculation.
Geng said Tokyo is not qualified to make remarks about China's "reasonable and lawful" establishment of the zone, since it has been stirring trouble in territorial disputes.
Geng said the Chinese military is determined and capable of conducting effective supervision of the zone.
Foreign Ministry spokesman Hong Lei said that China is not the one that has aggravated tensions and that China objects that certain countries are seizing and exaggerating the matter for their own interest.
"China has proposed sincere dialogue to discuss aviation security in the overlapping air defense identification zones. We hope Tokyo will make practical efforts to stop friction and contribute to regional stability," Hong said.
Biden arrived in Tokyo late on Monday. His weeklong trip in East Asia will also take him to China and South Korea.
Experts said that the issue may overshadow the US intention of focusing on economic affairs.
Jin Canrong, a professor of international studies at Renmin University of China, said the absence of a joint statement, which was pursued by Tokyo, showed that Washington is now leading the current situation and is unwilling to be hijacked by the Japanese agenda.
Washington's policy regarding this issue shows its diplomatic pragmatism, Jin said.
"Politically, the White House objects to the zone. Militarily, the Pentagon not only objects to it, but is also trying to seek a breakthrough. But on the civilian level, the US wants to cooperate with China in order to avoid economic damage," he said.
Niu Xinchun, a senior expert at the China Institutes of Contemporary International Relations, said that the US and Japan have overlapping interests in terms of their discontent with China's air zone.
"Washington is afraid that its free navigation in the Asia-Pacific region might be affected by the zone. After all, US naval and air forces have enjoyed free passage for the past three decades," Niu said.
"However, Washington disagrees with Tokyo in playing up regional tensions by exaggerating the threat of the zone, which in fact has been an international practice," he added.
Hong also called for world understanding and cooperation regarding China's designation, saying the zone, in line with international law and not targeting any specific country, will not affect the freedom of flight in the airspace.
So far, more than 55 airlines from 19 countries and three regions have reported their flight plans to the Chinese authorities, according to the spokesman.
Biden called on Beijing and Tokyo to establish crisis-management and confidence-building measures to lower tensions.
"I will reaffirm the strength of our alliance commitments and emphasize the importance of avoiding actions that could undermine peace, security and prosperity in the region," Biden told the Japanese newspaper Asahi Shimbun ahead of the tour.
One day earlier, the US Navy dispatched its first advanced P-8 Poseidon patrol aircraft to Okinawa, Japan, the start of a deployment that will upgrade Washington's ability to hunt submarines and other vessels, Reuters said.
Since Beijing announced the zone in late November, Tokyo, Seoul and Washington have all sent military or paramilitary planes through it in shows of defiance.
Chen Jia and Mo Jingxi contributed to this story.