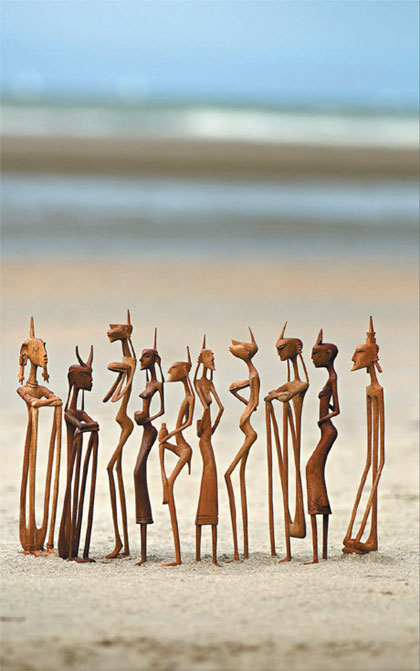 Cosmology of Life, installation by Indonesian artist Toni Kanwa, on display at the Singapore Biennale 2013. Provided to China Daily
The city-state's recently launched biennale will give locals and visitors plenty to contemplate in a show that focuses on Southeast Asia, Zhang Zixuan reports.
Singapore is turning into an art carnival until next February with the return of Singapore Biennale 2013 - the country's top platform for international dialogue in contemporary art. Titled If the World Changed, the fourth-edition biennale asks artists, curators and the public to reconsider the world we live in, and the world we want to live in. This year's biennale pays special attention to the Southeast Asian region, which has been a corridor of the world's major civilizations with rich cultures and geographies in history, and is experiencing high-speed transformation today.
The biennale features works by 82 artists and artist collectives, among which around one-third are from Singapore, and the rest are from the other 12 countries around the region such as Indonesia, Malaysia and Vietnam. The focus goes beyond major metropolitan centers to present a greater diversity of artistic practices.
Organized by the Singapore Art Museum and supported by the nation's Ministry of Culture, Community and Youth, the National Arts Council and the National Heritage Board, the ongoing show features artists and works nominated and selected by 27 curators from around the world.
"It's quite a challenge to let so many curators work together, but being collaborative is also what is so different about this biennale," says Susie Lingham, director of the SAM.
She points out that the biennale does not have country pavilions, a decision designed to let the works from different regions speak to one another.
Tan Boon Hui, project director of the Singapore Biennale, says that the team of curators was "locked up" for three one-week sessions to force everyone to come up with some creative ideas. "Instead of fitting everything nicely together, we faced the differences and discussed them," he says.
Related:
At ShanghART Gallery in Singapore's Gillman Barracks art district, the Chinese conceptual artist presents his first-ever solo exhibition in Singapore, which also marks his debut into the whole of the Southeast Asian region, wowing the audience with his vanguard works and unique thinking. More...