JOHANNESBURG -- Memorial service for former South African president Nelson Mandela started in Johannesburg on Tuesday as tens of thousands of mourners and more than 90 world leaders gather in rain to remember Mandela at memorial.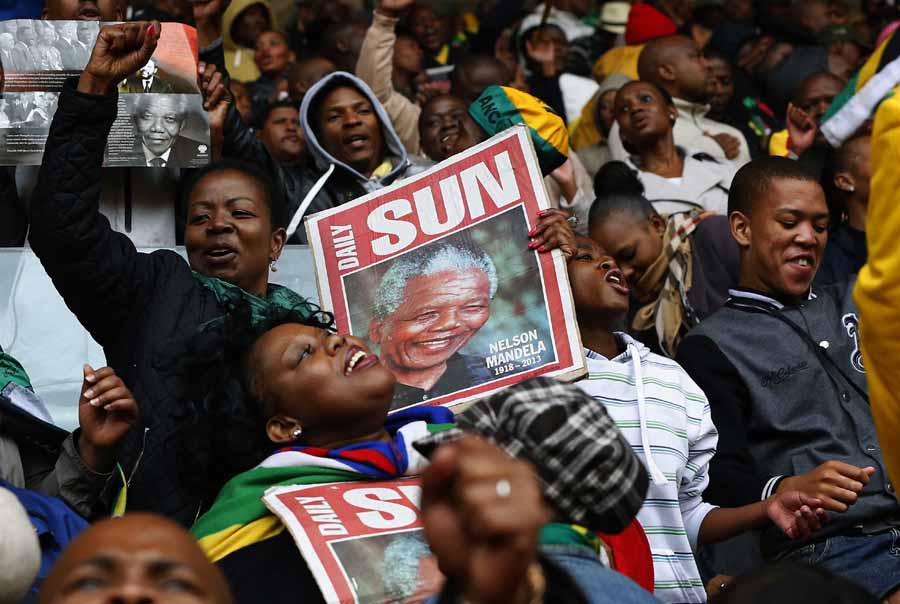 People sing and dance at the First National Bank (FNB) Stadium, also known as Soccer City, ahead of former South Africa's President Nelson Mandela's national memorial service in Johannesburg December 10, 2013. World leaders from US President Barack Obama to Cuba's Raul Castro joined thousands of South Africans to honor Nelson Mandela on Tuesday in a memorial that will celebrate his gift for bringing enemies together across political and racial divides.[Photo/Agencies]
As a special representative of Chinese President Xi Jinping, Chinese Vice President Li Yuanchao will give a speech at the memorial which is held at the FNB Stadium in Johannesburg. U.S. President Barack Obama, British Prime Minister David Cameron, Brazilian President Dilma Rousseff as well as U.N. Secretary General Ban Ki-moon are among the world leaders coming to honor the icon.  
The rain did not dampen the spirit of mourners singing and blowing trumpets before the memorial service began, in eulogy of Mandela who died of a lung trouble on December 5 at the age of 95.
"Today we reflect on our memories of Nelson Rolihlahla Mandela, " Cyril Ramaphosa, deputy president of South Africa's governing party ANC said when opening the service. "Today's memorial service should help each of us to gather our memories of Nelson Mandela."
Mandela could finally rest and enjoy the view of South Africa, he said. "His long walk has ended, but ours is just beginning," he said.
In the stadium flags are flying at half-mast and security is tight with a large contingent of police patrolling and standing on guard.
South Africa's Defense Minister Nosivewe Mapisa-Nqakula told the media that more than 11,000 troops have been deployed, as well as a coordinated plan involving the military, air force and police.
"We are talking about Madiba here, so there is no margin for error," police spokesperson, Zweli Mnisi told ENCA news on Tuesday.
Susan Khupe, a young girl, walked 10 km to attend the service and came in early hours, trying to be "one of the early birds and avoid hassles at the gate."
"This is the biggest event ever to happen to South Africa. I've to pay my respect to our beloved hero, Nelson Mandela," said Khupe, wearing an African national Congress (ANC) T-shirt.
"South Africa will never be the same again. Rest in peace my hero, we love you!" said 46-year-old Soweto resident Timothy Nxumalo.
Some of the people at the stadium were carrying placards written: "We love you Tata, Mandela." However, the morning rains washed away some of the messages, but those that stubbornly remained told the stories of the life and death of Mandela.
Parents were bringing their children to remember Mandela. The children, born after the end of apartheid, said they were learning about him in school.
Peter Knox, a 10-year-old primary school boy, said he learnt a lot about Nelson Mandela in history lessons. "He was a gallant fighter, a revolutionary. His imprisonment at the Robin Island didn't prevent him from fighting the rights of the oppressed. I salute him," Knox said.