Explosions expert Zheng Zhemin and radar engineer Wang Xiaomo have won China's top science awards.
The State Scientific and Technological Awards is one of the highest honors for scientists who achieved major breakthroughs in cutting-edge scientific and technological studies.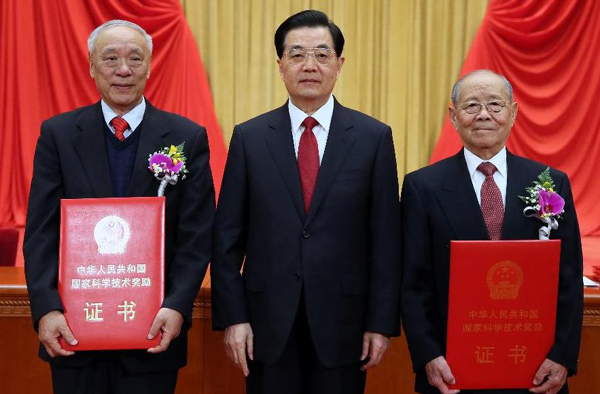 Chinese President Hu Jintao (C) awards certificates to explosions expert Zheng Zhemin (R) and radar engineer Wang Xiaomo in the awarding ceremony of the State Scientific and Technological Award in Beijing, capital of China, Jan 18, 2013. Zheng and Wang won China's top science award on Friday. [Photo/Xinhua]
The awards, given annually since 2000, were presented by President Hu Jintao at a ceremony on Friday.
Zheng, 88, has devoted himself to research in the areas of elastic mechanics, explosive processing and underground nuclear detonations.
Wang, 74, is regarded as the father of aerial warning and control systems in China.
Party chief Xi Jinping said at the ceremony that China needs to realize a growth pattern that is driven by innovation.
He encouraged scientists and researchers to follow the example set by the two scientists and contribute their wisdom to the country and the people.
Premier Wen Jiabao called for a closer integration of research entities and enterprises, as well as promising to support enterprises that wish to establish research and development centers.
Wen said the country needs breakthroughs in developing and marketing high-tech products.
The government will devote more resources toward science and technology that are considered to be vital for long-term development, he said.
Awards were also bestowed on a number of other scientists, as well as scientific research programs.
Chemist Richard N. Zare from the United States, as well as four other experts from the US, Canada, Denmark and Japan, received the International Cooperation Award in Science and Technology.
Although the total number of awards given this time decreased to 330 from the 374 given out in 2011, experts said that it reflected the shift of focus in China's science and technology research plan.
A medium and long-term (2012-30) plan, passed by the State Council on Wednesday clarifies the seven key research fields of energy, bioscience, environmental earth system, nuclear and particle physics, space and astronomy, and engineering.
This year, awards for natural science projects increased 13.9 percent, according to the Office for Science and Technology Awards.
"This year the quality of natural science projects improved extensively, a good number of excellent achievements were made in fields like bioscience and astrophysics," said Chen Zhimin, deputy director of the office.
"In the strategic research fields, we are winning a bigger global voice, changing from the pursuer to the leader," Chen said.
For example, an award-winning project on ultra-high voltage transmission line technologies is the world's first attempt to develop a full array of facilities of its kind, according to Chen Weijiang, one of the leading researchers of the project that brings together 50,000 participants and more than 100 institutes and companies in China.
More than 70 percent of the power demand in China is in the central and eastern areas, while most power resources, such as coal, water and wind are in the west. So power transmission research is crucial for stable and sustainable power supplies, he said.
The average age of scientists receiving awards this year is 47, while 10.8 percent of the award winners are under 35. Also, 37 percent had studied abroad.
Rainer Spurzem, a German scientist who works for the National Astronomical Observatories under the Chinese Academy of Sciences, is leading a team to build a supercomputer named Tiger in the observatories.
He said China's academy is eager to find areas where they can find big innovations.
"China ... is heavily accelerated ― it only started from 10 years ago but China wants to make fast progress, so the idea is to jump over some steps," he said
"But the developed part is just the top of the pyramid, and there is nothing in the steps below, so there still needs a lot of development in the middle of the pyramid," he said.