BEIJING - China plans to launch 20 spacecraft this year, including the country's third lunar probe Chang'e-3 and manned spacecraft Shenzhou-X, China Aerospace Science and Technology Corporation (CASC) announced Wednesday.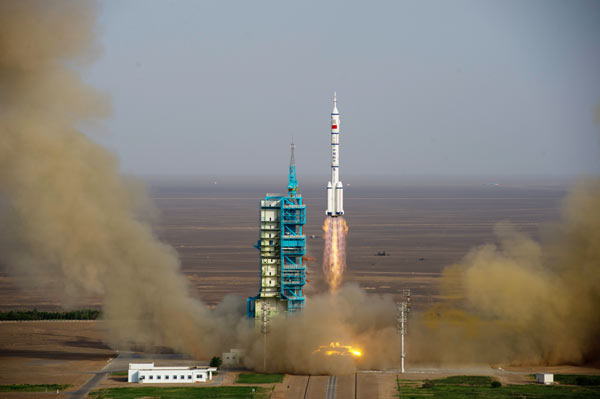 The Long March 2F rocket carrying China's manned spacecraft Shenzhou IX blasts off from the launch pad at the Jiuquan Satellite Launch Center in Northwest China's Gansu province, June 16, 2012. [Photo by Su Dong for China Daily]
The country is scheduled to conduct a manned space docking test between orbiting target module Tiangong-1 and Shenzhou-X, the corporation said during an internal work conference.
The Chang'e-3 moon probe is expected to land and stay there during the second stage of the country's lunar probe program, it said.
According to CASC, by 2020, China will have more than 200 spacecraft operating in orbit, accounting for about 20 percent of the world's total.
Related:
China to launch 3rd lunar probe in 2013
China considers more Mars probes before 2030
China to launch manned spaceship in June