China's biggest homemade blockbuster reaps 1.2 billion yuan and is closing in on the box-office champion Avatar. Raymond Zhou believes its off-screen trajectory is almost a rags-to-riches story worthy of Cinderella.
"Tai" in the movie title "Tai Jiong" not only refers to Thailand, where much of the story takes place, but also to "peace of mind", a dictionary-listed definition of the word, explains the actor-director-writer of Lost in Thailand Xu Zheng. What has attracted 32 million people to the movie theater could be the "jiong" part of the title - a new Chinese word that graphically captures an expression of awkwardness and foolishness, tinged with self-mockery. "It is the opposite of "tai", of which I found plenty while on a trip to Thailand," says Xu. "This is a country where the pace of life is slower than China, and people seem to be more secure and happier." Xu portrays a business executive who has to beat his rival to find the largest shareholder of their company and get his seal of authorization. That means billions of yuan in future income.
On his journey, he bumps into an idiot savant, who keeps wrecking his plans.
"A stranger you meet on the road who has a completely different perspective on life may change you forever," Xu believes. "While my character represents an urban lifestyle and the pursuit of wealth, Wang Baoqiang's character embodies the grassroots, optimism and values that are not materialistic at all."
They are the polar opposites in almost everything, which is the departure point for many of the gags in the road comedy. But it was Manfred Wong, a Hong Kong writer-producer, who first paired the two in the 2010 comedy Lost on Journey.
That film, about the trials and tribulations of Chinese people returning home for Chinese New Year, was inspired by an American flick, the 1987 comedy Planes, Trains and Automobiles, starring Steve Martin and John Candy.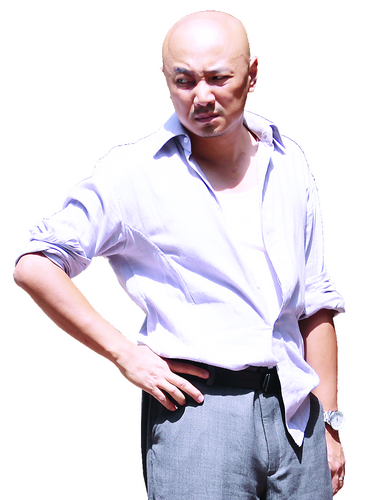 Xu Zheng, actor-director-writer of Lost in Thailand. [Photo Provided to China Daily]
The former is a high-strung executive and the latter a well-meaning but clumsy salesman. That formula fits the Chinese story like a glove, now packed with China-specific jokes and situations.
In terms of copyright, Lost in Thailand is not a sequel to Lost on Journey. Neither Xu nor Enlight Pictures, which funded and distributed it, holds the rights, so Wang Changtian, CEO of Enlight Media, twisted the brand by changing one Chinese word in the original title to its homonym (roughly translated, "Lost Again on Journey"), followed by the colloquial title "Tai Jiong".
After Xu conceived the project, he started pitching it around town. According to inside sources, he went to Galloping Horse, one of the half dozen major production firms in China, which asked Xu to cut his proposed budget of 25 million yuan ($4 million) by half. Xu backed off.
The pitch was repeated at other studios until he had a 20-minute meeting with Wang of Enlight, during which he acted out detailed scenes - with no script or outline.
"I did not get around to reading the full script, but I instantly sensed he was serious. He has the temperament, communication skills and maturity to see through in production what he demonstrated to me in that meeting," Wang recalls.
Xu responds that he was lucky Enlight trusted him with the project. "They not only saw the commercial possibility of the movie, but also the texture of the story. That was valuable to me."
Xu enlisted his wife, Tao Hong, an actress who has a cameo in the movie. "After I wrote each draft, she would be my first reader and give me feedback," Xu says.
A couple of weeks before the movie opened, Xu was spotted by paparazzi with another girl, in a supposedly suspicious situation. He later clarified that it was a misunderstanding, but did not respond to claims that it was a marketing ploy for the movie.
While the movie was being shot in Thailand, Huang Bo's role had not yet been cast. "Huang had an extremely tight schedule. He was actually making another picture for us at the time," Wang says. "We sat down with him and talked for eight hours straight until he signed the contract."
With Huang, who is equally comfortable doing comedy or drama, taking the role of villain, the movie could attain "higher energy and higher value", in Wang's words. "As part two of a franchise, everything, not just the budget, must be enhanced," rationalizes Wang, who backed it up with a 15 million yuan marketing budget.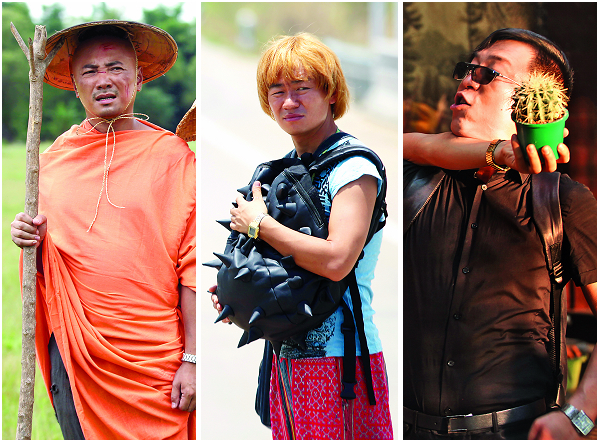 In the movie Lost in Thailand, Xu Zheng (L)'s character represents an urban lifestyle, while Wang Baoqiang's role embodies the grassroots, and Huang Bo (R) plays the villain. [Photo Provided to China Daily]
The movie showcases many Thai delights, including its myriad temples, elephant rides, resort hotels, and especially the exotic phenomenon of "lady boys", young transgender men who entertain clients for a living.
Tourism experts forecast that Chinese, in the afterglow of this smash hit, will swarm to the Southeast Asian country for the coming holiday season. Surprisingly, perhaps, Thai government and tourism agencies did not pay a single penny in product placement or tie-in promotions.
"We were very tight in pre-production. We had to shoot everything before the monsoon season. So, we didn't even think of contacting those agencies for sponsorship. Instead, we turned to personal friends for help," Wang says.
In the process of post-production, Xu made a 3.5-hour rough cut.
He was hesitant whether to show it to the boss, but Wang was encouraging: "We've seen lots of rough cuts, and we can imagine how the final cut will look. And all the good things were in there."
After Xu tightened it to around 100 minutes, "the tempo was perfect and there was nothing you could change to make it better."
Xu got rid of some scenes for fear of boring the audience, but he left a couple of scenes where the madcap action is placed on hold and both the characters and the audience can take a respite and reflect on what has just happened.
"The best comedy will not just make you laugh, but use laughter as a means to achieve joy. Tears often accompany this kind of laughter because there is latent suffering, through which audiences will be taken on a journey of discovery and wonderment, and when leaving the theater, a sense of gratification. That is real comedy."
Yet some middle-aged or senior moviegoers have not been moved. Wang says he understands: "Even though it is a family film, we did not focus on the more mature demographic, whom we did not expect would see it."
One academic accused the farce of "propagating bad taste" and "having no use for raising national morals".
To which Xu replies: "I just hope that public attention on this movie will bring more opportunities for my colleagues and will not bring bad feelings, such as suspicion or discord."
With the laurel of "China's top-grossing filmmaker", Xu cautions that he may never be able to top himself at the box office. "But I hope my future movies will be better in quality."