HANGZHOU - A local court has ruled in favor of a jailed Chinese businesswoman in two separate civil cases over property disputes that had been dragging on for six years.
The Jinhua City Intermediate People's Court on Friday said in a statement that after a two-day trial, the court on Thursday threw out the lawsuits filed by Bi Jian, who the court said represented Zhejiang-based Bense Holding Group "without authorization," in two property-related cases.
The civil case victory will help Wu Ying, the 31-year-old jailed tycoon and owner of Bense, recover losses incurred from the "cheap sale" of her expensive properties by Bi in 2006, observers said.
But the latest development will not affect Wu's suspended death penalty sentence for financial fraud - a criminal offense, observers said.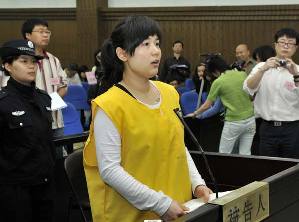 File photo shows Wu Ying stands trial at the Jinhua Intermediate People's Court in Zhejiang on April 16, 2009. [Photo/Asianewsphoto]
Wu still owes her defrauded investors hundreds of millions of yuan.
Before the trial, her father, Wu Yongzheng, said, "She wants to win the two cases to pay her debts."
In 2006, through filing two lawsuits, Bi secured a court settlement to sell properties under Bense to two individuals - Hu Ziren and Liu Xianfu. In 2008, the settlement was revoked but both parties appealed.
On Wednesday, the case was retried inside Zhejiang Women's Prison, where Wu is serving her term.
Wu and her lawyer as well as Hu and Liu's lawyers appeared at the trial, according to the court statement.
"Both Wu and the company denied acknowledgement of a letter of authorization allowing Bi to represent the company," the statement said. "Wu said she did not know Bi and Bense's salary list indicates Bi was not on the company's payroll."
Wu is serving time for cheating investors out of 380 million yuan ($60.2 million) from May 2005 to January 2007 in private lending scams.
She managed to raise 770 million yuan by fabricating information, deliberately hiding the truth and promising high returns as an incentive, the court later found.
Wu was initially sentenced to death in 2009, but as her case sparked heated debates over the country's fund-raising system, she was tried and got her sentence reduced to death with a two-year reprieve in May this year.