BEIJING - About 1.12 million candidates sat the National Public Servant Exam on Sunday, an increase of 150,000 from last year, according to the State Administration of Civil Service.
One out of 53 exam takers will be successful in gaining a government post, according to the administration.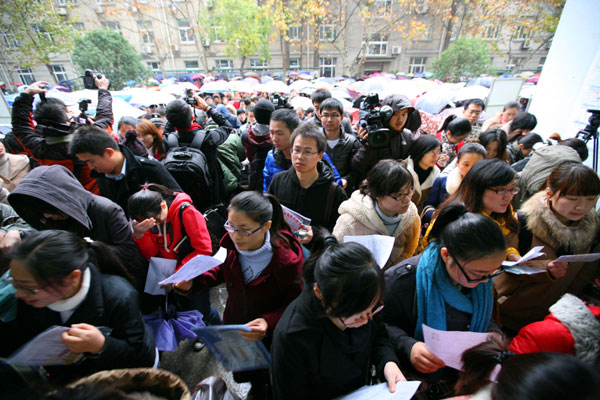 Candidates swarm into a test site for the 2013 National Public Servant Exam in Nanjing, Jiangsu province, Nov 25, 2012. [Photo/Aisanewsphoto]
The annual National Public Servant Exam includes an aptitude test and a written policy essay, and those who pass the written exam will make it to the interview round.
The popularity of the exam has been attributed to mounting pressures in finding employment, fairness of the test, and an attractive civil servant job which is stable and respected.
This year, a record 1.5 million candidates submitted online applications for about 21,000 government jobs to be filled next year.
Enthusiasm towards the exam has triggered concerns of students' power worship, and brain drain from other economically productive social sectors.
The Ministry of Education on Saturday said the employment market for college graduates will be tougher next year.
The number of college graduates will reach 6.99 million in 2013, 190,000 more than that in 2012, the ministry said.
It ordered universities across the country to increase the number of teachers specialized in assisting graduates to look for jobs. There should be at least one such teacher for every 500 graduates.
The ministry also asked universities to encourage graduates to work for grass-roots communities, rural areas, small-and-medium sized enterprises, and remote places, and assist those who start their own business.
Universities are also required to ban employers from publishing discriminatory recruitment advertisements on campus and give priority to helping graduates from poor families find jobs.
Furthermore, they are advised to curtail enrolling of majors which score low employment rates for two consecutive years.