CHENGDU - Daocheng Yading Airport in Southwest China's Sichuan province, the world's highest-altitude civilian airport, will start operations in May, following the success of a test flight on Friday, according to a source with the airport.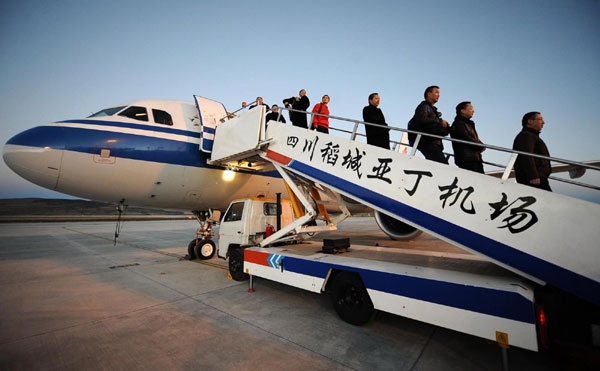 Passengers get off an airplane after a test flight at Daocheng Yading Airport in Sichuan on Nov 23, 2012. [Photo/Xinhua]
An Airbus A319 passenger plane from Air China, the country's flagship carrier, successfully landed at the airport in Daocheng county, Garzi Tibetan autonomous prefecture, after flying there from Chengdu, the provincial capital.
Air China is expected to launch the one-hour flight between Yading and Chengdu in May, said Tan Heng, an airport official.
Construction of the airport located 4,411 meters above sea level was completed in August this year. Bangda Airport of Qamdo in Tibet, located 4,334 meters above sea level, previously held the record as the world's highest-altitude airport.
The airport is 130 km from Yading Nature Reserve, a national-level reserve in the eastern part of the Qinghai-Tibetan Plateau that features beautiful alpine valleys.
For its scenery, Yading is known as "the last Shangri-La" and "the last pure land on the blue planet."